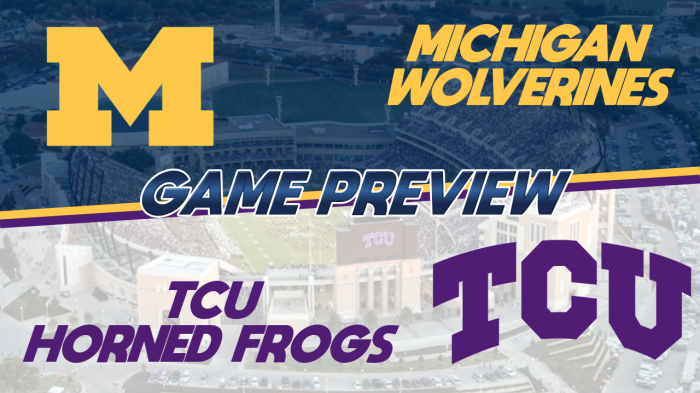 TCU and Michigan are coming into week two in completely opposite ways. TCU put in an offensive display that is unrivaled by any other team. Andrews couldn't be stopped throwing for almost 500 yards. On the other hand, Michigan was locked in a defensive battle, ultimately losing 17-14 in a tough, hard-fought battle against Texas.

TCU

As stated, TCU had one of the best passing offensive performances of the week. Dalton Andrews threw for 485 yards and five touchdowns, good enough for offensive player of the week. The entire receiving core was all over the field. They had two receivers, Horace Lynch and Andre Gyan, both had over a hundred yards and a touchdown, while Ray Conley had two touchdowns. One thing that left a little to be desired was the rushing attack. Koda Adok only had 69 yards, on a solid 21 carries. If TCU wants to compete for a title, Adok needs to get it together and start moving the ball down the field.

On the other side of the ball, TCU struggled to stop Penn State. They allowed almost 300 passing yards and almost 200 rushing yards. Going against one of the best rushing attacks in the CFSL, 5-star MLB Aaron Davis will need to step up to stop the Mack's in the backfield

Michigan

Although I have said they have one of the best rushing game in the CFSL, they did not live up to that title last week. Halfback EJ Mack ran for a negative total, being completely shut down by the Texas defense. Star quarterback Javon Mack ran for only 65 yards, a positive but not enough to bring his team to victory. With that being said, I do believe this offense will have a return to form tonight.

Defensively, Michigan balled against Texas. They held one of the most fearsome passing games to under 200 yards. In saying that, most times when you hold your opponent to under 300 total yards and 17 points you often win, but Texas held on in the 17-14 win. If this Michigan defense stays consistent they will find success this season.

Key Matchup

Javon and EJ Mack vs Aaron Davis

The Mack brothers are two of the best rushing duo in the league, while Aaron Davis has a knack of living in the backfield.

Prediction

In a close barnburner, I think TCU and it's high-powered pass attack will pull away toward the end.

TCU – 52

Michigan – 45