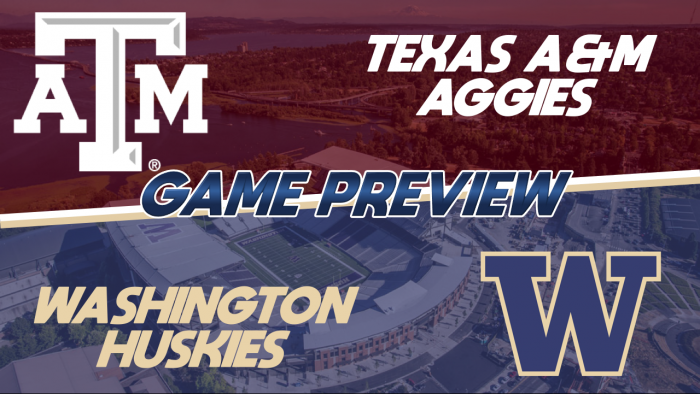 Texas A&M and Washington kick us off tonight in continuation of week two.
Last week, Texas A&M came out of the gates strong but sputtered in the second half, eventually losing 24-17 to Notre Dame. Washington, however, punished Ohio State and new AD, Russellmania with a 62-17 victory. While this game may not be that lopsided, things can get out of hand if Washington is able to run their offense. Texas A&M will need to figure out how to close games in order to have a chance for the win tonight.
TEXAS A&M
The Aggies in their first game with a new AD looked promising. Walker Mills and Jimmy Tickle appeared to have chemistry built up. Mills completed 23 out of 29 passes for 203 yards and two rushing touchdowns on the ground. Jimmy Tickle rushed for 169 yards on the ground including nine catches for 62 yards. Defensively, Aaron White and Sky Taylor proved to have their own chemistry going with 21 tackles combined. The Aggies will need to work on their 3rd down defense, as they allowed a 58% conversion rate to the Irish. On offense, can the Mills-Tickle combination take the next step to be an elite pair?
WASHINGTON
When you win by a couple of scores, people take notice, when you completely own every facet of a game, everyone notices. The Huskies did just that with a 62-17 win. Granted it was against a new AD with a new system, but Washington looked unstoppable in their championship-winning playbook. The Huskies put up 629 total yards with 341 coming via the ground game. Doug Ohle was nearly perfect and accounted for three touchdowns. His backfield mate, Ron Dayne Jr, scored four touchdowns on the ground to go with 224 rushing yards. On defense, it was business as usual for the Huskies. They particularly stood strong on third downs, only allowing a 27% conversion rate. This week the Huskies will be tested by a strong offensive squad than Ohio State. Can they answer the bell?
WHAT TO WATCH FOR
Dynamic duos will be on display tonight. While Doug Ohle and Ron Dayne Jr. have been together for two seasons now, Mills and Tickle are in their first season together. Can they show glimpses of an early Ohle-Dayne connection? Or will the two-headed monster continue their dominance of the CFSL?
KEY MATCHUP
TAMU LB Aaron White vs WASHINGTON RB Ron Dayne Jr.
Many linebackers have tried to slow down Ron Dayne Jr., but few have been successful. The last time that White met Dayne, was when the linebacker was at Notre Dame. In that game, White only secured five tackles. The Aggies need him tonight to fill that gap and force Ohle to throw. If Dayne gets going early, it could cause trouble for Texas A&M as it will open up the passing lanes.
PREDICTION
Washington looks really good on paper and proved they could contend after the beat down of Ohio State. But this Aggie team is not Ohio State and they have more firepower on the defensive side of the ball. Can the Aggies slow down this offense to give their offense a chance? Not likely but the key is to bend not break against Washington. We know the Huskies will score but how will their defense fair against a tougher opponent?
While the Aggies are a feel-good story after last season, we may be looking at another blowout win for Washington. The Huskies win easily, 54-20.