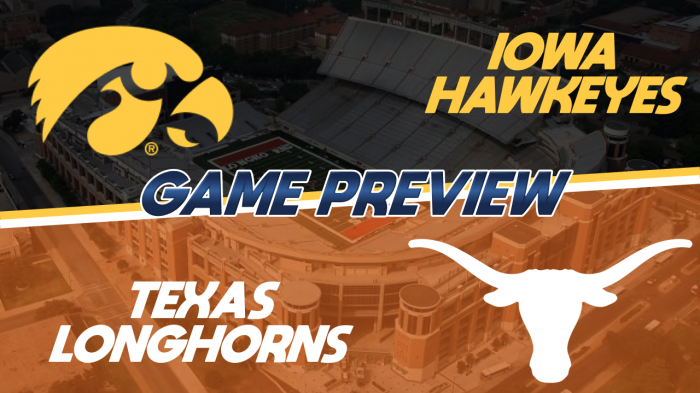 The CFSL action doesn't stop, in fact, it gets better. Iowa and Texas will square off in a major rematch from last season. Both teams squared off in week two that season as well and boy did it end in surprisingly. Iowa was able to sneak past the Longhorns 43-42. Some called it a fluke, others gave kudos to the Hawkeyes. Now, we'll see what happens as the Hawkeyes and Longhorns square off again. So let's take an up-close look at both teams.
IOWA
The Hawkeyes came out on offense last week, debuting their new quarterback in Joe Kane. He didn't look bad either, passing for 133 yards and two touchdowns with an interception to be offset. Complimenting him was halfback Avery Jordan who added on 113 rushing yards off of 16 carries. While it wasn't enough to help the Hawkeyes collect the win, it is a great starting point for an up-and-coming quarterback. Especially since wide receiver J.J. Meis' only two catches went for 22 yards and two touchdowns.
Meanwhile, the Iowa defense was able to hold Clemson to just 26 points last week. Considering the talent those Tigers have, it's an impressive feat. There were no sacks recorded, but linebacker Jerry James recorded 12 tackles, four of which went for a loss. It was an impressive sight to see, while corner Neal Mason batted down a pair of passes to go with his four tackles. This defense will continue to improve, but they're in for a challenge tonight.
TEXAS
So, uh, the offense only managed 17 points last week which was unexpected. What else was unexpected? Quarterback Ray Tatum throwing the ball 41 times, completing 31 of them, and still passing for less than 200 yards. Tatum had 196 passing yards and an interception with no passing touchdowns. There is a major upside though, the questions regarding halfback Geaux Bamba's role in this offense were answered. Bamba racked up 20 carries for 100 yards and a pair of touchdowns on the ground. The young phenom from a season ago certainly hasn't lost a step from last season, but this passing game needs a tune-up and fast.
As for the defense, well they held an explosive Michigan team to just 14 points. Which is impressive, but more impressive is safety Jimbo Smithers' record-tying performance. Smithers had 12 tackles, which was only half the single-game record, but his seven tackles for a loss matched the record. A record that, ironically, was set by Iowa's former defensive end Alvin Mack, who set the record last season. Oh, and linebacker Justin Boudreaux added 10 tackles of his own in the victory last week. Certainly an impressive performance by this Longhorn defense last week.
KEY MATCHUP
LB Jerry James v. HB Geaux Bamba
Based on last week's performance, linebacker Jerry James will be tasked with finding a way to stop Texas halfback Geaux Bamba. These two colliding will be quite the sight for the night, assuming Texas tries to maintain their offensive balance from a week ago. That means for Iowa to have success, James has to try and lock-up Bamba.
PREDICTION
Look, Iowa won last time around and things got pretty crazy. Texas had a couple shots at a hail mary and little did they know what impact the Iowa game would have later in the season, especially considering the Gator Bowl. Here's the deal, I like Iowa and I think they'll improve, but Texas is coming into this angry. The Longhorns are looking to settle the score on their own turf tonight and after their defensive performance, matched with what their offense is capable of, I can't find a reason to go against them. Give me the Longhorns to win it by 10.
Iowa 31, Texas 41