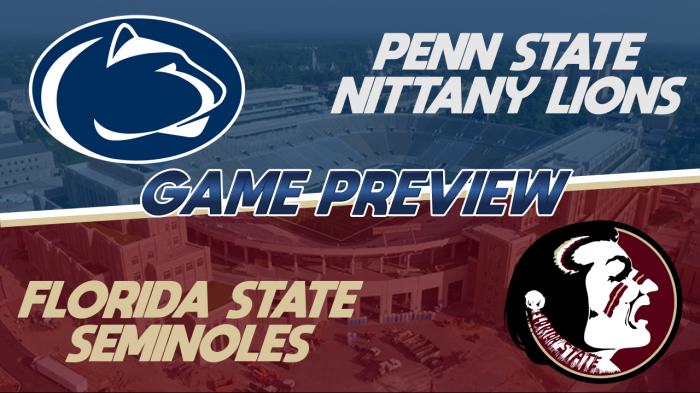 The end of week two is almost here, but not before one of the more overlooked matchups of the week takes place. The Nittany Lions and the Seminoles had a really good game when they played each other the last time, with Penn State winning by three. What makes things better is that both teams looked good last week. They come into this game looking to accomplish what they failed to do last week. So let's break it all down.
PENN STATE
Well, this offense sure came to play last week. I get it, they lost by 14, but let me be clear on this: quarterback Aidric Berry looked really good. Berry had 273 passing yards for three touchdowns with no interceptions. He then added on 16 carries for 67 yards and another touchdown. Wide receiver Ronald Fields looked like a stud though. A triple option pitch led to Fields picking up 54 rushing yards and a touchdown on that single play. Fields then doubled down with eight catches for 191 yards and another three touchdowns through the air. Now, they just need halfback Robert Davis to have a breakout game and this offense could be in great shape.
Defensively, gotta give some credit. They did all they could, but their secondary couldn't keep the wheels from falling off. Linebacker Jack Tyler led the day with 11 tackles while corner Harper Allen added 10 of his own. But no turnovers will hurt and, when you can't get off the field on third down, well, that hurts too. The Nittany Lions defense allowed a third down conversion rate of 58% and that was a close game for the most part. Got to figure out this third down defense and, unfortunately, that's the least of their worries tonight.
FLORIDA STATE
The Seminoles offense looked dangerous a week ago, on the way to putting up 38 points against a strong Auburn defense. Quarterback James Kovach finished with 388 passing yards and three touchdowns, avoiding an interception despite a couple of "almost"s. Wide receiver Jared Tetonis had 16 grabs for 175 yards and a touchdown of his own. The bright spot, though, was that halfback Adam Croft looked really good and not just as a receiver, to which he had seven catches for 86 yards and a touchdown. Croft also had seven carries for 68 yards and a pair of rushing touchdowns, going so far as to break off a 38 yard scamper that led to a score. Look, this offense is the most dangerous in the league and should show that tonight.
So, safety Nathan Tetonis had 14 tackles and a tackle for a loss last week. It's impressive but not necessarily a good sign. Add in the fact that safety Ray Ray Washington was the next leading tackler with 11 and a tackle for a loss of his own then you end up with a major issue. The defense had a rough time stopping the run, giving up 373 yards on the ground. This defense will need to pin their ears back and make plays around the line of scrimmage or tonight could get wild.
WHAT TO WATCH FOR
This game is going to see a lot of fireworks, especially for the Florida State offense. It's the mismatch they should have been salivating over since the schedule came out. With the firepower this offense has, meshed with the state of Penn State's secondary, it's almost criminally inhumane how this could play out. Expect the Seminoles to take major shots at this secondary all night long.
KEY MATCHUP
Penn State front seven v. QB James Kovach
Here's the deal, both teams have something they like offensively. Penn State can run this ball right at the Florida State defense and get to the second and third level frequently. Florida State can essentially burn the Penn State secondary as much as they want. In order for things to stay close and for Penn State to keep pace, the front seven has to get pressure. They've got four defensive linemen on this roster. Defensive ends Barry Morgan and Malcolm Kennedy, with defensive tackles Drew Ekstrum and DeAngelo Montgomery. Montgomery, by the way, had a sack last week but only because the quarterback slipped. This defensive line needs to come up with more than one sack, though, and needs to force Kovach to make some major mistakes.
PREDICTION
While Florida State will have a tough time stopping the run, their offensive firepower more than makes up for it. The offense is explosive enough to strike quickly. Penn State will undoubtedly be able to make some big plays in the running game against this defense, especially with Berry at the helm. The only issue, though, is that with the running game we could see longer drives from Penn State which could hurt them if they fall behind too fast. I don't anticipate a blowout tonight folks, but if one did happen I would lean on it being in Florida State's favor. Either way, give me the Seminoles by seven.
Penn State 45, Florida State 52