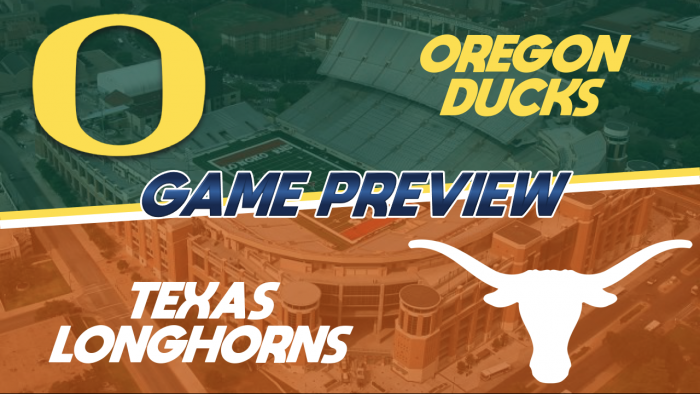 We're on to week three, and it's starting off with a major Big Ten versus SEC matchup. Oregon flies into Austin as the Ducks hope to settle the score with the Longhorns. There's just one small problem. The Ducks gave up a 21 point lead a week ago and Texas was able to exact their revenge against the Hawkeyes a week ago. The question is, can Oregon do the same to Texas? Let's break it down and find out.
OREGON
Well, let's give credit as the offense put up 21 in that first half. Quarterback Devonta Cribbs had a nice game, passing for 248 yards and two touchdowns with no interceptions. Halfback Speedy Love gave 54 rushing yards on eight carries as part of his contribution to the night. Oh, and tight end Humphrey Wells had another 100+ receiving yard game. There's only problem for the Ducks off of last week. They scored 21 points in the first half, but only three in the second half. That's an issue that Oregon cannot afford to be an issue moving forward, especially tonight.
On the defensive side, well, what can I say? Great first half, tough second half. Safety Jack Frost hauled in an interception with one hand and took it the distance for six. It was definitely a great play. Frost added 10 tackles, three of which went for a loss, and forced a fumble. Corner Israel Cassius added 11 tackles and a tackle for a loss with an interception of his own. The defense played well early, and had moments in the second half but, unfortunately, still found themselves on the wrong side of a 21 point comeback.
TEXAS
So, the Longhorns won by 17 last week, in a game where quarterback Ray Tatum had six touchdown passes to just two interceptions. That was with Tatum putting up 422 passing yards in that game, and halfback Geaux Bamba added 130 yards on the ground as his contribution to the winning effort. This offense exploded onto the scene a week ago, with receiver Dedric Scaliso racking up 133 receiving yards with two touchdowns. It was an all-around impressive offensive showing by the Longhorns last week.
Defensive performers was the name of the game last week. Linebacker Justin Boudreaux racked up 14 tackles, two tackles for a loss, a sack and a forced fumble. Then, safety Jimbo Smithers 15 tackles, two tackles for a loss, a sack as well. It was an impressive defensive showing, but the question is, can they do it two weeks in a row?
WHAT TO WATCH FOR
The Ducks are gearing up for a tough test. The Longhorns showed what their offense is capable of and if this secondary isn't ready, they could be in big trouble. Watch for Tatum to put that arm to good use once again as he tries to attack the Oregon secondary. That will allow Bamba to have the big game.
KEY MATCHUP
CB Israel Cassius v. WR Vincent McCoy
This is one of just many matchups between Oregon's secondary and the Texas receiver corps. It's also what will swing the tides of the game. If the receivers can get a half-step to a full-step of separation, Tatum can deliver. Not to mention, these receivers are capable of some majorly big games. The pressure is on this Oregon secondary to come up big in the clutch. And maybe force a turnover or two.
PREDICTION
I get it, the Ducks want revenge and are looking for a means to rebound from last week. Those two ingredients should give Oregon more than enough motivation coming into tonight. There's just one small problem, Texas is coming off getting their revenge and getting their offense going. The Longhorns have momentum and their defense has been impressive. All of that being said, here's how I see things. I'll take the team that is angry with not only last week, but what happened the last time these teams faced. Give me the Ducks by three.
Oregon 41, Texas 38