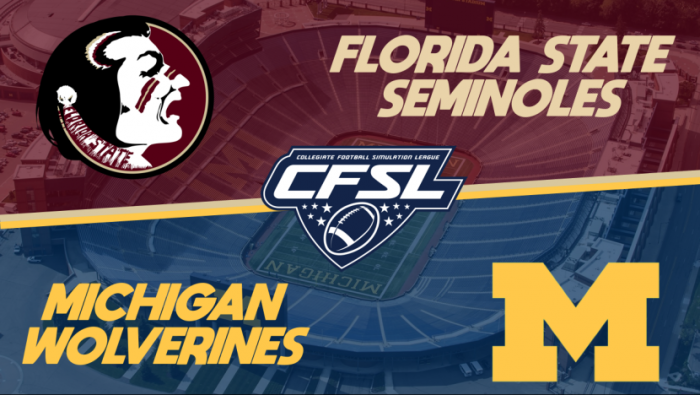 By: JustRich
The start of the week is here and it looks like we are in for another fast-paced game with lots of scoring. Florida State is coming off a week in which they scored 102 points in a span of two games. Michigan comes into this game looking to build momentum after exploding for 56 points in a win against TCU.
Florida State
The name of the game with this team is offense. They have playmakers on all parts of the field that are a threat to break free for a touchdown at any point in the game. This was very evident as four different receivers managed to score a touchdown against Penn State last week. Although the passing game is their biggest strength, Adam Croft is silently becoming a force in the run game. Croft rushed for 89 yards and two touchdowns vs Penn State.
If the offense is their biggest strength then the defense may be their biggest question mark. To start this season off they've given up 97 points, the second most by any team in the league so far. Defensively they've shown they can make stops, as we saw coming down the stretch of the Penn State game. The problem is they haven't done it enough. For this team to take it to the next level their defense is going to need to create stops at a more consistent rate.
Michigan
Michigan has shown that they are a very balanced team. One that is capable of playing in those tough grind it out games but one that can also run up the score on you. Javon Mack and EJ Mack have provided a stellar 1-2 punch for the Wolverines. Mack has thrown for 634 yards to start the season while also working his way to nine touchdowns. Not to be outdone, EJ Mack seems to have found his footing after rushing for 160 yards last week.
Michigan doesn't boast a jaw-dropping defense but they have players capable of making big-time plays. Last week we saw them come away with 2 turnovers against TCU. Jake Lake is going to be tasked at slowing down FSU's plays down the middle. The defensive line is also going to to need to improve as they didn't tally a single sack last week.
WHAT TO WATCH FOR
If you like gun-slinging quarterbacks and lots of scoring this is the game to tune into tonight. Both teams are red hot offensively and are being led by quarterbacks who can seem to do no wrong at the moment. Expect to see both teams score lots of points through the air in this one.
KEY MATCHUP
Michigan's front seven vs James Kovach.
I said this earlier and I'm going to say it again, the Wolverines have yet to tally a single sack this season. Kovach has shown that if he isn't pressured he's going to pick apart a defense. If the Wolverines are able to get significant pressure on Kovach during this game that may very well prove to be the deciding factor that leads them to walk away with a victory.
PREDICTION
This one is very difficult to call as it really could go either way. However, I'm leaning towards Florida State for this game. If Kovach continues his stellar play and the defense steps up to the challenge we should see them walk away with the victory. However, don't count out Michigan as they always seem to show up when the critics have counted them out.
Florida State 49, Michigan 42