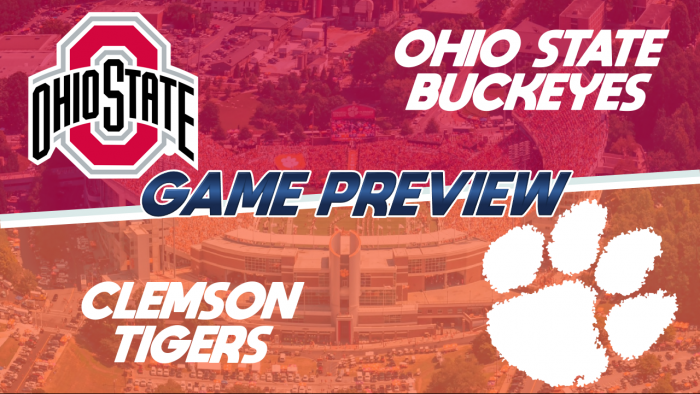 By: JustRich
As week three kicks off, we have a very heated match up to bring you. The Clemson Tigers make their way to Columbus for what promises to be a hotly contested game against the Buckeyes. The Buckeyes who come into this game on a two-game losing streak. They will look to knock off Clemson from the ranks of the unbeaten. However, Clemson has shown that beating them will not be an easy task. They've managed to pull out victories early on this season in tightly contested games.
Clemson
The Tigers come into this game in a very good spot offensively. They're beating opponents with a balanced passing and run game and rank near the top of the league. Mike Chadwick hasn't wasted any time getting the ball rolling this season. He's already rushed for 218 yards and two touchdowns in two games and could be in for more. Surprisingly, Chadwick hasn't broken a rush for 20+ yards this season but that could change tonight. The Buckeye defense has given up roughly 200 yards on the ground a game.
Defensively the Tigers are as good as anyone in this league. They do an amazing job at getting to the quarterback. Kobe King, Tyson Ali and Mike Miller have combined for ten sacks already this season. The secondary may not be joining in on the sacks but they are no strangers to being inside their opponent's backfield. Most notably, Jordyn Hall, who has been a thorn in the side of the opposing teams o-line.
Ohio State
The Buckeyes enter this game looking to make a statement to the rest of the league. Their offense has struggled to put up points thus far this season. The culprit may just be their inability to keep the ball. They've given up five turnovers already. Freshman quarterback Xavier Garcia-Allen provided Buckeye fans with a lot of "YES" moments followed up with several "NO" moments last week. He's shown that he is a legitimate dual threat QB throwing for 447 yards and 3 touchdowns while averaging 96 yards on the ground a game. He's found a go-to target in the tight end Frank Andrews but he's going to need more help from his receivers tonight.
The defense is the Buckeyes weakest link right now and it will be tested once again tonight. The d-line for the Buckeyes is questionable and with Clemson's running attack it shouldn't surprise anyone to see Clemson pound it on the ground until Ohio State can stop them. This isn't to say the Buckeyes can't stop the run, they've shown they can as they held their own against Tennessee running back Donny Kazee keeping him under 100 yards rushing.
WHAT TO WATCH FOR
It goes without question to say that the quarterback is going to play an important role for Ohio State. Xavier Garcia-Allen's role in this game is going to be the deciding factor. After a tough game against Washington, he bounced back and showed why the fans in Buckeye stadium are excited about him. If he can keep the turnovers to a minimum the Buckeyes might just come away with a win.
KEY MATCHUP
Clemson front seven vs Garcia-Allen
Garcia-Allen has was sacked three times in the Buckeyes previous game while facing heavy pressure. If Clemson is able to generate that same type of pressure on him as they did against opposing quarterbacks last week, it could turn out being a very very long night for Buckeye fans.
PREDICTION
I think the Buckeyes are a good team with an unkind opening schedule. With the way Clemson is playing and the talent on both sides of the ball, I wouldn't be surprised to see them run away with this one. Unless we see a monster game from Garcia-Allen and his receivers I've got my money on the Tigers.
Ohio State 20, Clemson 35