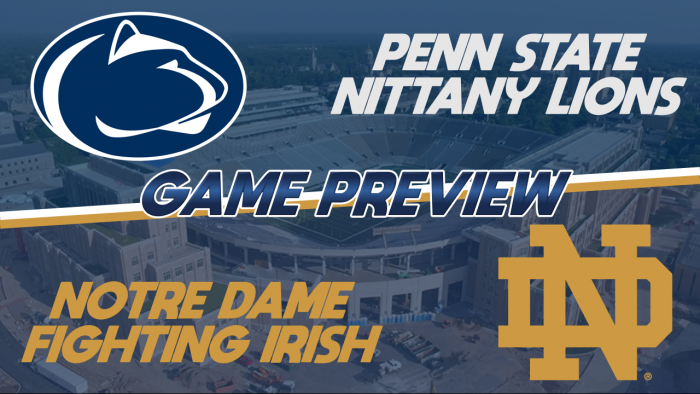 Well, last week is not how either team pictured it going. Penn State got into a wild one with Florida State and, well, Notre Dame had a rough time up in Chicago against Auburn. So, here they are, two teams who are trying to get on course. Penn State's offense has looked great, but Notre Dame has some quirks to work out of theirs. Let's take a closer look.
PENN STATE
This offense scored 56 points last week. In most weeks that would be enough to win, except when Florida State scores 64. On the bright side, quarterback Aidric Berry looked sharp. He finished the evening with 359 passing yards, two touchdowns and an interception. That was all just through the air too. On the ground, Berry added 151 yards and another five touchdowns alone. Part of what made the outing well for the offense was wide receiver Ronald Fields, who hauled in six passes of his own to the tune of 159 yards, catching both of Berry's touchdown passes. Between Berry on the ground, and Fields through the air, this offense is deadly. Oh, and don't forget halfback Robert Davis can rack up yards too, despite only having 79 on 13 carries last week.
Well, there's good news and bad news for the Nittany Lions defense. Bad news is, anybody else tries to air it out against this team will have a field day, albeit that team may not score 64 points again. But, here's the good news, this defense managed a couple stops, no turnovers, but some stops. Further good news is that the Notre Dame offense has looked a little dysfunctional lately. Something defensive tackle Drew Ekstrum should be able to take advantage of, as he had five tackles, two for a loss, and a sack recorded last week in an impressive performance. One he hopes to repeat.
NOTRE DAME
Losing by 23 is rough, for any team. It stings a little more, though, when it comes from a rival in the Auburn Tigers. Quarterback Jose Bueno threw the ball 44 times, completing only 27 of them, and those completions only amounted to 204 yards and a touchdown. He had one completion to the defense too, though nothing worth bragging over. Drops by his receivers have seemingly hurt this offense and when halfback Joe Pantoja only sees seven carries well, that's tough. Especially since Pantoja was doing well on the ground. He may have had just seven carries, but they went for 35 yards and a rushing touchdown. Bottom line, though, is that these receivers need to help out Bueno in a big way, and tonight's the night for it.
Giving up 37 points may not seem like a good thing, but honestly this defense wasn't terrible, they just had a tough time stopping the run consistently and saw the field far too often. The only problem is, nobody really had a big performance to try and counteract everything. Safeties Michael Jerome Pluth and Lamont Terrier did have nice games, with Pluth recording nine tackles, a tackle for a loss, and an interception. Terrier added eight tackles of his own, two of which went for a loss. Defensive end Shane Razorback was kept quiet and if Notre Dame isn't careful, Razorback may be quiet again tonight.
WHAT TO WATCH FOR
The Nittany Lions' option game continues to impress, and the question is can the Notre Dame defense stop it. Look for Penn State to attack in the running game with Aidric Berry, and if you're lucky, you might see Ronald Fields take another pitch to the endzone.
KEY MATCHUP
WR Ronald Fields v. CB Tyrell Solo
Whenever Penn State isn't running the option, odds are Berry is looking for Ronald Fields. Notre Dame's defense can cause problems for Berry if they can find a way to silence Fields. That's a big deal for the Fighting Irish. It's also likely why corner Tyrell Solo will be matched up against Fields. If Solo can keep pace and find a way to keep Fields from creating explosive plays downfield, that's one less thing for Notre Dame to worry about.
PREDICTION
The burning question right now, is this the week when the Notre Dame offense is able to put a game together? Some dropped passes have hurt, and not just games, but also the confidence of their quarterback. If the receivers can step up for Bueno, then Notre Dame can have a nice game as an offense. That leaves this defense having to find a solution to the Penn State offense that put up 56 a week ago. Yeah, good luck with that. I'll take the surprise upset pick. Nittany Lions over the Fighting Irish by three.
Penn State 37, Notre Dame 34