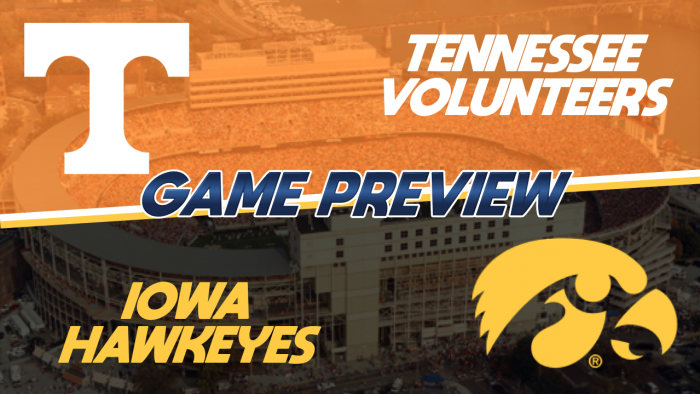 The Volunteers managed to pull off the win last week, and did so with an impressive defensive performance from their linebacker. The Hawkeyes, on the other hand, have had a rough couple of weeks to start the season. If Iowa wants to get this team jump-started, knocking off the undefeated Volunteers would go a long way. Let's break it down, shall we?
TENNESSEE
Well, quarterback Dewey Ainge looked pretty good last week. Ainge threw the ball for a total of 266 yards, three touchdowns, with just one interception. It was a nice game to air the ball out, the only caveat is, halfback Donny Kazee seemed ghostly in this offense. He finished the day with 12 carries for 77 yards but no rushing touchdown, although he did catch a forward pitch for a touchdown, counting as a receiving touchdown. That said, wide receiver Nick Bagg certainly made his presence known. His six catches went for 94 yards and he added a touchdown through the air as well. To make things better, I have a feeling this offense is only getting warmed up.
Well, that's a defensive performance that's difficult to forget. Forcing two turnovers of the Ohio State offense in the first four minutes of play is an impressive feat. Here's what was also impressive, linebacker Ronald McFish racking up 15 tackles, two for a loss, an interception, and a fumble recovery that he took 63 yards for a score to give the Volunteers their first points of the night on Ohio State's opening drive. It's what allowed him to win defensive player of the week, and that performance will be difficult for him to top.
IOWA
Last week was not a fun week for the Iowa Hawkeyes, I get it, but this offense is still working some things out. Quarterback Joe Kane had 223 passing yards, a touchdown and two picks, but he added in 75 yards on the ground with a rushing touchdown as well. With Kane starting to find his groove, I imagine halfback Avery Jordan will be able to get back into his impressive form. Last week, Jordan had 20 carries go for 98 yards and a pair of rushing touchdowns, which is good. Jordan also caught a touchdown pass. But we want to see Jordan reclaim that dominance from a season ago.
Well, you gave up 52 to the Longhorns on a night when they scored six times through the air despite the Hawkeye defense nailing down two interceptions. Corner Braxton Audman Jr. had one of those interceptions to go with his four tackles. And, defensive end Mohammad Dmour added five tackles of his own with a tackle for a loss and a sack on the night. The leading tackler, though, was safety Othello Jones, and he led the defense with six tackles. A lack of plays in the backfield and a lack of stand up performances by this defense won't help you.
WHAT TO WATCH FOR
Honestly, I want to see the battle of the running backs tonight. I want to see Donny Kazee and Avery Jordan go back and forth in a contest to see who's the better tailback. That being said, expect both teams to try and be balanced offensively, with Iowa working the rushing tandem between Jordan and Kazee, while Tennessee will rely a little more on Ainge's arm.
KEY MATCHUP
LB Ronald McFish v. HB Avery Jordan
This should be exciting. I know Kane can run the ball too, but we all know that Jordan is the prized rusher for this Iowa offense. With McFish coming off a week where he won defensive player of the week, and Jordan likely hungry to get over 100 rushing yards in a game, I expect sparks will fly between these two players. McFish and Jordan going head to head will lead to some incredibly fun hits to watch tonight. Don't miss out folks!
PREDICTION
So, here's the deal, Iowa's at a point where they're tired of losing, and not just losing, but losing to the Volunteers. It's been a major problem for the Hawkeyes. Here's the good news, all the games have been close and winnable for Iowa when they face Tennessee. One small problem though, the Volunteers, with their defense, and their offense able to make plays, it's hard not pull for them. Give me the Vols with the win by seven.
Tennessee 38, Iowa 31