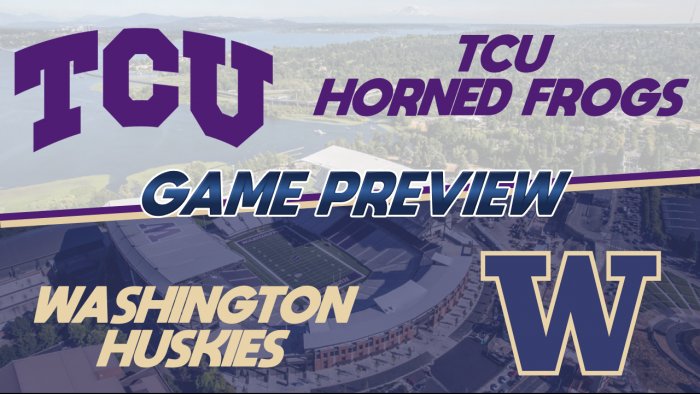 In the final day of week three action TCU prepares to take on the Washington. TCU is looking to get back on the winning track after dropping their game to Michigan last week. The Huskies who are coming off a shock loss to Texas A&M are determined to prove they're a better team than what they showed last week.

TCU
With one of the more electrifying offenses this season, they've had minimal problems producing points. Quarterback Dalton Andrews has played well, completing 72% of his passes so far this season with only one interception so far. A quarterback is only as good as his receivers right? TCU's receivers have done an excellent job of creating separation and bringing in catches. Tight end Cody Ganakas leads the team with 21 catches and 305 yards and shows no signs of slowing down against Washington.

After giving up 40+ points to Texas A&M the defense is a bit of mystery.. The defense is going to be looking for a leader in this game as they will be most likely have to make several consecutive stops to win this game. They won't have to look far as Aaron Davis has picked up right where he left off last year. His sure tackling and ability to get in the backfield has disrupted any plans teams have had of going down the middle.

WASHINGTON
Much like TCU, the Huskies boast a top ten offense. However unlike TCU, they run a very balanced offense that averages 31 passes and 31 runs a game. Ron Dayne Jr. is third in the league in rushing yards with 339. His ability to hit the holes and make one or two guy miss is a joy to watch, his best trait in this game however may be his ability to make plays in the passing game. He's also accounted for five of Washington's touchdowns this season.

The Huskies come into the week ranked in the top ten defensively only allowing 31 points per game. When the secondary has it clicking, they do a great job of staying with receivers. This forces quarterbacks to be incredibly accurate or make mistakes. We've seen them struggle against the run so far this season and tonight eyes will be on Erik Langston slow down Dayne Jr's runs up the middle. Langston has been the leader of this defense early on in the season with 16 tackles, three for a loss, and an interception.

WHAT TO WATCH FOR
Both teams have strong offenses and multiple players who are poised to have big games. If you missed the Florida State-Penn State game last week you might want to tune into this one. Odds are, we're going to be in for another high scoring game.

KEY MATCHUP
Washington's secondary vs TCU's receivers

The Huskies have talent in their secondary but they're young and can sometimes be inconsistent. Going up against a savvy receiving corps that excels at creating separation will be the biggest test to date for the Horned Frogs.
PREDICTION
On paper it looks like these teams are evenly matched all across the board. The stat that catches my eye, however, is how much better Washington is against the pass than TCU. With TCU being a pass heavy team, it doesn't bode well for them if Washington keeps their trend and shut down the passing game. Dalton Andrews is the top passing quarterback in the league for a reason though and stopping him won't be an easy task.

TCU 38, Washington 49