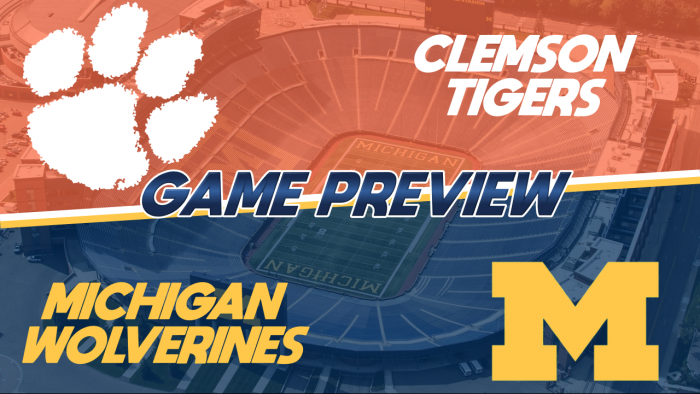 Two teams come into this game, each hosting a quarterback who won Offensive Player of the Year. Clemson will march into Ann Arbor in the hopes of vanquishing the Wolverines. There's just one small problem. This Michigan team is continuously improving and getting better, which means that this will be a fun contest between the two. Let's take a closer look.
MICHIGAN
With one of the most dynamic rushing games in the league, the sibling duo of season two OPOY and quarterback Javon Mack and halfback EJ Mack look to succeed against one of the best defenses in the league. Michigan's athletic director has said he wants to show off Mack's passing ability, and this looks like one of those games to test it. On the other side of the ball, this Michigan defense has looked good. This will be another test of their strength as Clemson has one of the most explosive offenses in the CFSL.

CLEMSON
As stated, Clemson's offense is no joke. With season three OPOY, quarterback DJ Moss on the helm, this team is dangerous on any part of the field. Halfback Mike Chadwick has shown signs that he can be a reliable back and opens up passing lanes for Moss. The star wide receiver Anthony "AR-15" Robertson has been underutilized in his tenure at Clemson and looks to start making huge plays. Defensively, Clemson continues its trend of dominating the rush game, allowing only 147 rush yards a game. They will need to stay at this pace in order to win tonight.

KEY MATCHUP
Javon and EJ Mack vs Kobe King

The Mcks are two of the best runners in the game and are rarely shut down, while Kobe King has been known to ruin halfbacks' and quarterbacks' days. The caveat though, is the question whether or not King will know who to key in on. If the rushing tandem gets going, they could take King out of the equation by forcing him to make the wrong guess.

PREDICTION
Clemson has a long had fought battle ahead of them. It all comes down to whether or not the Tigers can slow the Wolverines offense. Credit Clemson for the win last week, and for being able to overcome a 21 point deficit a couple weeks ago. The issue here for the Tigers is this, Michigan's offense can get hot and this defense held Texas to 17 in week one. Despite all of that, it's hard to not see the Tigers snatching victory in enemy territory, but only by seven.

Clemson 38, Michigan 31