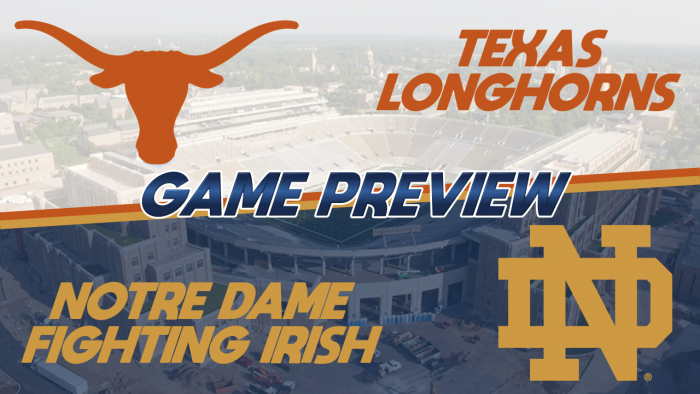 Last week, Notre Dame defeated Penn State by a score of 42-20, while Texas fell to Oregon 23-20. The Irish look to defeat one of the best the SEC has in Texas, as both are looking to stay above .500.

Texas

After their rough showing against Oregon, the Texas offense looks to get back on track. We've seen quarterback Ray 'Voodoo' Tatum do everything and more passing the ball. With two 5-star wide receivers, a 4-star tight end, and a 3-star wide receiver, he has all the weapons he needs to find success. He will need to start taking shots down the field in order for the offense to right themselves. While only seen in small doses, Bamba has been making plays. He hasn't had any real explosive games like we've seen from him in season three, but he is still a threat.

Texas has one of the best defenses in the CFSL. From top to bottom they have elite players all over the field. The one who has been said to be taking the place of Nate Jones is safety Jimbo Smithers. He lives in the backfield and makes plays game in and game out. He currently has a streak of 8 straight games to ten or more tackles. The rest of this defense has been dominating as well. Senior linebacker Justin Boudreaux is #3 in tackles this season. He is trying to put on a good show for the scouts. Three separate Longhorns have two interceptions as well, Zachary White, Michael Wells, and Terrence Top.

Notre Dame

Notre Dame's offense looked great vs Penn State. They could do whatever they wanted, whether it be pass or throw. This week, however, is a whole nother challenge. They will need to establish the run game in order to find success this week, as Texas is very good against the run. With that being said, Jose Bueno has shown off his legs countless times but has yet to impress many with his arm. His arm is the key to victory, and those passing lanes open up with good rushing attacks. This lies on Joe Pantoja to pick up good chunks of yards every carry.

Defensively, Notre Dame has looked good. They ate #1 in pass yards allowed per game, giving up only 152.3 yards a game. They do, however, get gashed by the run, being #13 in that category. Duke Thomas, McKinley Hall, and Shane Razorback are the tree who have to step up to turn that stat around and keep them in more games. This is a defense with tons of promise and potential, and if they reach that potential, they will be one of the most fearsome in the league.

Key Matchups

Jose Bueno vs Jimbo Smithers

Jose Bueno has come on the scene and played decently. He has some great moments and some poorer moments that he wishes he has back. In his last game, we saw more greatness from him than those poor decisions. He has to be on point for Notre Dame to have a chance

Jimbo Smithers is one of the hardest hitting players in the CFSL. Game in and game out he is a quarterback and halfback killer. This week he will need to play just as well as he has played all season. And if he does, this game may be over before it even starts.

Prediction

This game will be close, down to the wire, and gritty. The team with the most heart and determination will win this game. It may even be who has the ball last. Notre Dame has the fire to keep this train moving, while Texas looks to get back on track. Texas does do that, but it is not enough to beat Notre Dame in South Bend. Notre Dame wins:

Texas – 31

Notre Dame – 35