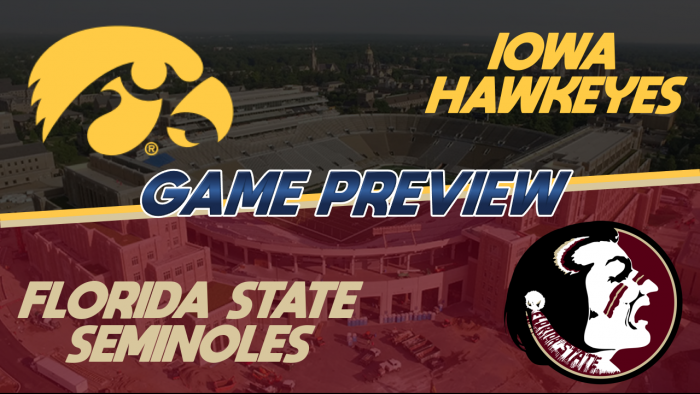 Both teams come into tonight's game feeling a little down on their luck given that both teams lost last week. The question, though, becomes which team is feeling their oats. Florida State fought hard but ultimately fell short, while Iowa showed off their offense in the first half before relying on their defense in the second. That's ultimately what tonight comes down to. Can Iowa's defense find a way to slow down the Seminoles on offense? Let's take a close look.
FLORIDA STATE
The Seminoles offense looked good last week, but not quite what they were used to doing through the first couple weeks. Quarterback James Kovach still showed up, but scored only two passing touchdowns. He threw for 421 yards and nearly threw the ball 70 times. So while those numbers hadn't changed, the passing touchdowns certainly did and that's the most noticeable difference at hand. On the bright side, halfback Adam Croft added a pair of rushing touchdowns of his own and wide receiver Albert Saenz had an impressive game. Notice that receiver Jared Tetonis was a bit quiet. Tetonis only recorded six grabs for 50 yards, albeit he had a receiving touchdown. But still, this offense maybe took a half-step back last week and they still only lost by four. They'll be eager to get back on track tonight.
Defensively, well, there's that. They gave up 41 points to a Michigan team that is starting to get hot as a unit. Linebacker George Tetonis managed to snag an interception while his partner, Vinny Maddox, forced a fumble that he recovered. Maddox added in eight tackles, two of which went for a loss. The defense wasn't terrible, but they definitely had a lack of stand-out performers and that can make a difference sometimes. They'll need to get back on track tonight.
IOWA
Well, that's a thing that had happened, the offense scored 21 points in the first half and then went silent for the rest of the night. Iowa quarterback Joe Kane didn't look too bad going 14 of 17 for 111 yards with a passing touchdown. He then added 123 yards on the ground with another touchdown by way of his running ability. The question mark, though, appears to be halfback Avery Jordan. He had 20 carries go for 90 yards last week, but had just one rushing touchdown. It's not difficult to imagine that Jordan should be worked heavily, but he doesn't appear to be nearly as explosive as he was a season ago, can he recapture that tonight?
There is a bright side, even though giving up 28 in the first half may not seem like it. The Hawkeyes kept Tennessee from scoring anything for the remainder of the game. Linebacker Jerry James, one of the long time members of the Iowa defense, recorded 10 tackles, two of which went for a loss. Newcomer and corner Dre Delgado racked up eight tackles in his CFSL debut, while defensive tackle Mohammad Dmour was able to nail down a sack. Dmour will certainly be called upon once again though, as this Iowa defense is in for a challenge.
WHAT TO WATCH FOR
If anyone asks, they haven't been paying attention. The Seminoles are going to double down on their receiving corps and their ability to push the ball downfield. If the Hawkeyes can't force a turnover or find a way to counter the Florida State receivers, then it could be a long night for Iowa fans.
KEY MATCHUP
DE Mohammad Dmour vs. QB James Kovach
Not the conventional matchup is it? Dmour has made some nice plays for the Hawkeyes, coming up big in a couple moments even though Iowa is definitely missing Alvin Mack from this defense. Dmour has got to find a way to get home and bring down Kovach. Kovach, on the other hand, is going to have to find a way to get the ball out or shake off Dmour for big plays. This could be fun to see, if Dmour can get home to Kovach.
PREDICTION
The Hawkeyes are talented, and will turn that into a really good team if they can figure out how to get this offense into a groove. They've been coming along nicely, just not quite there. Florida State, though? It doesn't take much for them to get into a groove as this offense is so immensely talented. Even if they seem down, one big play can put this offense back into the zone and that's dangerous for the Hawkeyes. Give me the Noles by seven.
Iowa 38, Florida State 45