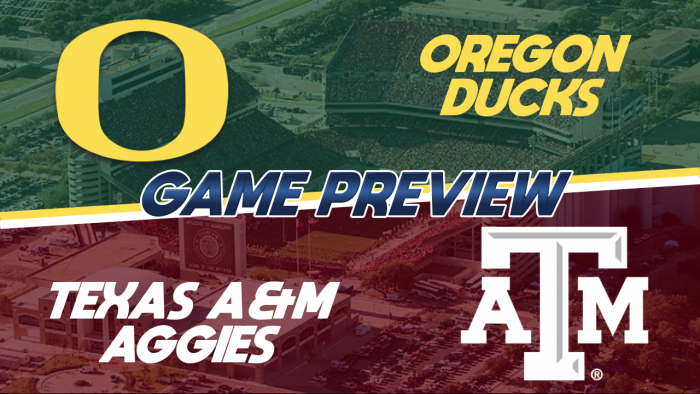 The Ducks and the Aggies are squaring off and it's been the tale of two different teams. Oregon has been in a lot of close encounters and for the most part have seen things go their way, having absorbed just one loss on the season. Texas A&M, on the other hand, have not been quite so fortunate. A close game to start the season followed by explosive performances. Unfortunately, the Aggies were on the wrong side of one of those explosive performances. Let's take a look out how each team can make things go their way tonight.
OREGON
The Ducks managed to squeak past the Longhorns a week ago and some would say in spite of quarterback Devonta Cribbs. Cribbs aired it out to the tune of 250 yards, but only threw one touchdown pass to three interceptions. It wasn't Cribbs' best performance by any stretch of the imagination, but halfback Speedy Love undoubtedly made up for it. Love's 30 carries allowed him to rack up 156 yards on the ground with a rushing touchdown. Not a bad day for the slick running back, but the biggest issue was third down. The Ducks were able to convert one third down the entire night, and they had eight opportunities in total. That's not good at all and something this offense needs to rectify. But, hey, receiver Dijon Swann had five catches go for 100 yards so that's a plus.
The defense played well, with safety Jack Frost leading the charge as he delivered seven tackles and served up a forced fumble. Adding to that was corner Thor Odinson who hauled in an interception to go with four tackles. Safety Shane James added five tackles and recovered the fumble that Frost forced. James also had a pass defensed. Overall, the unit played well a week ago, and will need to do so again against a team that has a really good running back.
TEXAS A&M
Speaking of the Aggies, last week didn't go the way they hoped. After all, they only scored 14 points, which is unfair to solely judge this team by. Now, in fairness, quarterback Walker Mills had a tough time last week, throwing for only 85 yards and he turned the ball over through the air once. But Mills was decent on the ground, racking up 48 yards on 12 carries with a rushing touchdown to call his own. Then, there's halfback Jimmy Tickle who delivered 134 yards on 16 carries with a touchdown of his own. This team was only down 10 at one point and could have certainly pulled off a comeback. Unfortunately, when the passing game hurts and the other team finds a huge momentum swing, it's difficult to climb that hill.
Defensively, look, they gave up 45 points I know, and it was a rough game. But, there were some stand out performances. Safety Sky Taylor had 10 tackles, a tackle for a loss and a pass defensed. Then, there's corner Zay Manning who tallied five tackles, three of which went for a loss. It wasn't a terrible day for the Aggies defense, at least not until the floodgates opened. This defense needs to come together, and quickly, otherwise the floodgates could open once again and this defense could be in for disaster.
WHAT TO WATCH FOR
Oregon is going to try and attack this defense, we all know that and with Love back there they can. But, the Aggies have a really special back of their own. This could be a fun game if the two teams can get their running games going, we could see a halfback duel for the victory. Should be fun to see.
KEY MATCHUP
FS Jack Frost v. HB Jimmy Tickle
Is this a little unfair? Maybe, but let me make this clear, Tickle is proving to be an absolute beast in this league. And you can only stop a beast with one of your own. Frost has proven time and again that he will let heads roll with his hard-hitting style, while Tickle can break ankles and lower the shoulder. I want to see these two go head to head, but for that to happen, either Frost will be setting up near the line of scrimmage, or Tickle is making a living in the Oregon secondary on big runs.
PREDICTION
Oregon has been on a roll, and I appreciate what A&M is capable of. I get that Cribbs had a rough week last week, but he still performed better than Mills, who ultimately could make or break this game for the Aggies. I just can't get behind A&M to snatch victory. Give me the Ducks by 10.
Oregon 31, Texas A&M 21