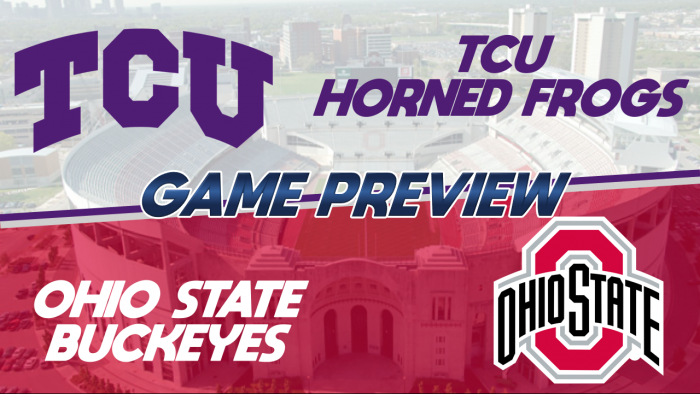 Part of the finale to week four revolves around Ohio State playing host to the Horned Frogs. Ohio State has yet to win a game, but not for lack of trying as their last two games have been decided by seven. The Horned Frogs, while they have a win, have been in similar straits to the Buckeyes. Close games in which TCU has been unable to close the deal, including a touchdown pass away from overtime and an opportunity to come into this game with a different record. So let's examine this, shall we?
TCU
The Horned Frogs fell short last week, and in part due to their inability to convert on fourth down, and yet they only lost by seven. Quarterback Dalton Andrews had an impressive game, throwing for 457 yards and three touchdowns, without an interception. Tight end Cody Ganakas looked phenomenal, snagging 12 receptions for 139 yards. He has been impressive and TCU is needing him to continue that performance. That would be a major help to the Horned Frogs to reclaim the victory feeling.
Defensively, linebacker Aaron Davis racked up 16 tackles and a tackle for a loss while Davis also forced a fumble. Safety Kobe Jordan recorded nine tackles with a tackle for a loss in his own right. The Horned Frogs have studs on this defense who are finding ways to make plays, and they just need to find a way to make the big plays necessary.
OHIO STATE
The offense of the Buckeyes is still working out some quirks albeit they're trending in the right direction. Quarterback Xavier Garcia-Allen had 131 passing yards with a passing touchdown, adding 37 yards on the ground off of 15 carries. Then halfback Frost Carlson entered the scene. Carlson's 17 carries went for 161 yards with two touchdowns on the ground. That includes a run where Carlson ran one for 65 yards which is impressive that night. This offense is trending, but they've got to keep it up.
Then there was the defense, on a night where safety Kevin Brackett was able to establish himself as the player of the week on that side of the ball. Brackett delivered 16 tackles, three for a loss, an interception, a pass defensed, and a forced fumble. Cornerback Juan Cantu added three tackles with an interception of his own. This defense looked really good last week, and they'll need to keep it up.
WHAT TO WATCH FOR
The Horned Frogs have assumed the role of the high-flying, prolific passing offense. Don't expect anything less than to see TCU air it out against the Ohio State defense in an effort to capitalize. The question, then, is can Brackett build off his performance from a week ago and find a way to come up with some turnovers? Should be fun to watch.
KEY MATCHUP
WR Andre Gyan v. CB Juan Cantu
Keep an eye on these two. TCU's receiver, Andre Gyan, is going to try and push the secondary to help out his buddy Ganakas. But Gyan has to get by Cantu. And while it can be done, Cantu offers an interesting matchup between receiver and corner in a battle that should be fun to watch.
PREDICTION
I like the direction Ohio State is trending as a team and they're showing a great deal of spirit. The league would certainly benefit with them getting the win. The tough part, though, is finding a way to keep up with TCU's offense. Maybe tonight is the night when everything is put together for the Buckeye offense and they pull off the win. I just don't think it's tonight as this TCU offense sails to victory with a seven point lead.
TCU 42, Ohio State 35