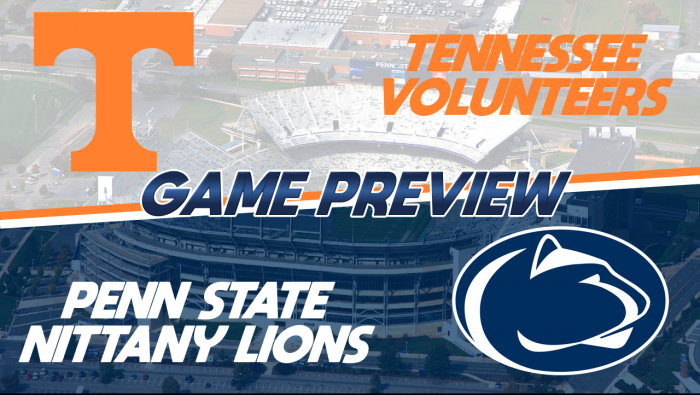 Tennessee comes into this week playing very close with every team they have faced. After losing in week one, Tennessee has won only by one possession in both weeks one and two. Penn State has never really been close in any of their games. Their offense has been showing up big, but their defense has been getting torched game in an game out.

Offensive Comparison

Tennessee has been looking decent on offense. Ainge is having a very good season. He has thrown for nearly a thousand yards and nine touchdowns. One player that is having a down season is Donny Kazee, While he has more yards per carry, he hasn't been getting the touches he needs. He is averaging less than half of yards per game as last season.

The only part of Penn State that is working is their offense. Aidric Berry is looking back to form in his final season. Berry has over 300 rush yards and over 600 pass yards. Another standout on this offense is Robert Davis. He has over 6 yards every carry and a touchdown.

Defensive Comparison

The Vols defense took a massive hit in this past week, with the loss of 5-star linebacker Ronald McFish. Without him, this team now has a gap in the middle. Without him, who knows if they even get some of their wins. Some key players, most notably James Mitchell and Buster Bates, will need to play their best football if Tennessee wants to stay relevant.

The Nittany Lions defense does anything but roar. They have been gashed game in and game out, and it seems like there is no sign of any resistance from Penn State. One root problem is their lack of talent in the secondary. They have a 5-star corner, Harper Allen, and a 3-star safety, Deadrick Kingston, but other than that they have nothing. Teams have consistently thrown the ball incredibly against them, and Penn State has no answers.

Key Matchup

Dewey Ainge vs Harper Allen

While these two will not be in many direct plays together, it is imperative that Allen locks down on the outside, and maybe grabs a few picks in the process.

Prediction

While Penn State will score plenty of points, their defense will no be able to get it done. Tennessee wins:

Tennessee – 48

Penn State – 42