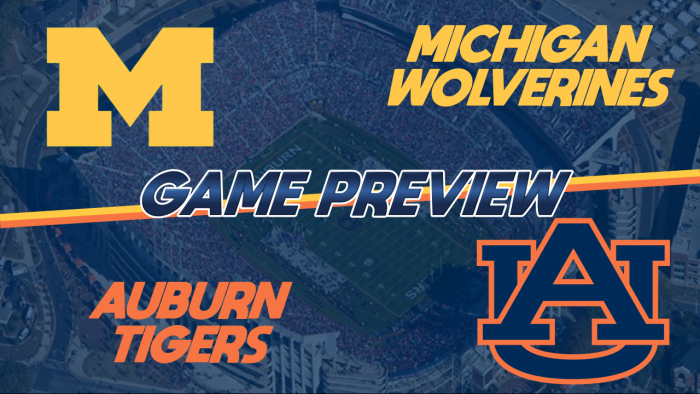 by justrich23

Starting off what should be another fun week of CFSL action we've got the Michigan Wolverines taking on the Auburn Tigers.  Michigan looks to keep their winning ways going after a grind it out win last week against Clemson. Meanwhile, Auburn looks to bury their lack luster showing against Washington with a statement victory of their own.
Michigan
When you look at the box score for last week's game, you'll see a team who were dominated on both sides of the ball. The box score however would be lying to you as this was an awfully close game right down to the wire. Michigan's star-studded duo of Javon Mack and EJ Mack were silenced in for most of the game but when it mattered most, they answered the call. It wasn't his greatest game, but Javon Mack continued to do what he's done all season and that's putting the Wolverines on his back when they need him the most. His 1199 passing yards this season has him seated in elite company at the quarterback position and he'll get a chance to show off every bit of that top-drawer talent tonight against a reeling Auburn defense.
The Wolverines defense will be screaming all about the "bend don't break" cliché we hear so often in sports. Last week they gave up 503 yards but still managed to eke out a victory. Although they gave up many yards, when it mattered most, they were able to get off the field. They held Clemson to a 37% conversion rate on third down.  Their red zone defense was also key as they forced the Tigers to settle for field goals twice.
Auburn
There wasn't much to cheer about last week for the Tigers, unless you were a Billy Carter fan and not an Auburn fan. During a dark night, Carter was the shining star against Washington. Just how good was he? He managed to have more rushing yards than Auburn did passing as a team. They'll rely on Carter heavily again tonight to help Auburn pull out a victory. Michigan's grind it out style of play may play right into his hands during the fourth quarter.
Auburn's defense went ghost against Washington as they gave up 496 yards of total offense. Most of those yards came on big gains on first and second down, they were only able to get Washington to third down eight times and on half of those instances Washington was able to convert. Look to see a fired up Auburn squad eager to show they can stop an exceptionally good offensive team.
What To Watch For
It is hard to tell how this game will end up. There's the possibility that Javon Mack and EJ Mack have a field day against Auburn's defense. But we know that EJ Mack picks and chooses when he's going to show up, if that happens, we could be in for a very tight game since Michigan has shown they're at their best when EJ is going. Keep an eye on how aggressive Michigan is in the run game and at getting EJ Mack involved.
Key Matchup
EJ Mack vs Auburns Front Seven
In every game this year (not counting the Clemson game) the Wolverines have lost if EJ Mack doesn't eclipse 100 yards rushing. If he can get going early and keep it going, paired with a solid performance from Javon Mack the Wolverines should like their chances of winning this game.
Michigan 48, Auburn 24