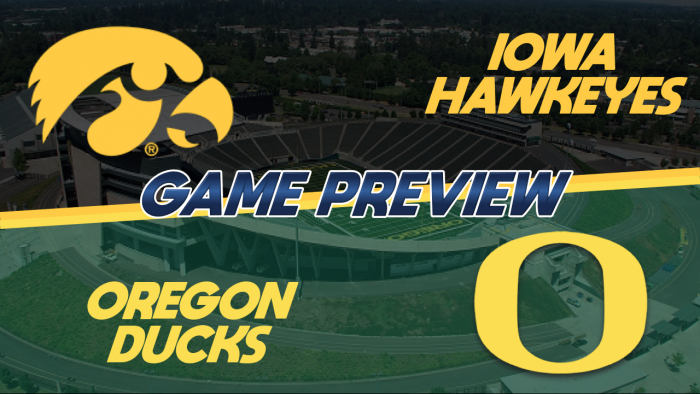 Our second game of the night features two Big Ten schools as well as a battle of two top ten teams. Oregon rumbles into town for a special date with the Iowa Hawkeyes. The Hawkeyes are buzzing after taking down FSU last week and look to keep their momentum going. The Hawkeyes are in for a battle though as Oregon aims to extend their two-game winning streak.
IOWA
A herculean effort by quarterback Joe Kane saw the Hawkeyes come from behind and stun the Seminoles. The past two weeks haven't been kind to the Hawkeyes as they went up against Clemson, Texas, and Tennessee. All three teams boast exceptionally good defenses and managed to slow down the Hawkeyes. Going up against a weaker FSU defense allowed them to display their offensive talent. The rushing game will be relied on heavily again tonight as they amassed 279 yards on the ground last week.
Defensively the Hawkeyes are near the bottom of the table allowing nearly 38 points a game. Going up against an Oregon team that's ranked sixth, they'll need to perform much better than they did against FSU. They've shown they're able to make stops when they matter, Othello Jones huge interception late in the fourth helped to switch momentum in their favor. Expect this secondary to come out knowing they will be targeted over and over until they prove they can stop the pass.
OREGON
The Ducks are no strangers to being in tightly contested games. Their four games this season were decided on average by just three points. Offensively they have a very balanced attack, Speedy Love continues to dominate on the ground rushing for 459 yards and 4 touchdowns. Humphrey Wells also provides a big target for Devonta Cribbs to throw to in crucial situations. His sure hands ability came in clutch for Oregon down the stretch last week and he'll be counted on again tonight to deliver in big down situations.
The Ducks rank third in run defense bested only by Iowa and Michigan. Going up against a run heavy team like Iowa their d-line will be leaned on heavily to slow down the Hawkeyes rushing attack. Oregon does a fantastic job getting into the backfield to disrupt the pass with 10 sacks this season. As a team they managed seven tackles for a loss against Texas A&M. Their ability to get back there may prove hectic for Iowa when they run read options.
WHAT TO WATCH FOR
Kane and Jordan vs Oregon's front seven
At one point during the FSU game Joe Kane and Iowa were at their one-yard line, on the following play King took it 100 yards to the house for a monumental touchdown. The big play ability from Kane and Jordan is going to be the difference maker for Iowa. If the two of them have a similar game like they did last week, we could be in for another barn burner.
PREDICTION
Oregon have a strong offense and defense. They've also proven to have a knack for pulling it out in close games. I expect Iowa to keep it close against the Ducks but ultimately come up short. A little Joe Kane magic in the fourth quarter though is not out of the cards but it'll be exactly what Iowa needs to pull off a win tonight. Still, giving it to the Ducks though.
Iowa 28, Oregon 38