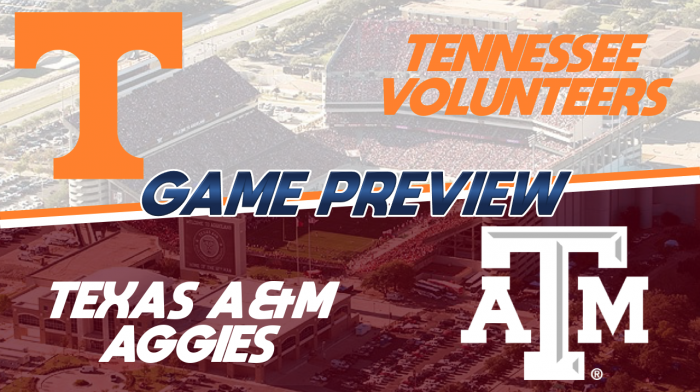 Week five continues with an SEC matchup that is better than you would think. The Volunteers are sitting at 2-2 and the Aggies are 1-3, but this A&M team is looking to get revved up for an opportunity to send the defending National Champions into a two-game skid. Here's how they can do it.
TENNESSEE
Losing by 12 to a team who didn't have a win can be brutal. But, it wasn't all the offense's fault despite the interception by quarterback Dewey Ainge. Ainge finished with two touchdown passes and threw the ball for a total of 314 yards in that game. Halfback Donny Kazee then gave an impressive performance where 13 carries equaled 133 yards and two rushing scores. Yet, somehow, the combined efforts of these two players led to a third down conversion rate of 40%. Part of that can be traced to the fact that Ainge was sacked on three different occasions and never had really any positive yards on the ground, finishing with -20. Yikes!
Defensively, well, what can I say? Safeties Andrew Tillman and Buster Bates had a busy night. Tillman totaled 11 tackles with a tackle for a loss while Bates finished 15 tackles, a tackle for a loss, two passes defensed, and a forced fumble. Defensive end James Mitchell even tallied four tackles, a tackle for a loss, and a sack. Linebackers Jumon Hilliard and Thomas O'Donnell combined for 11 tackles. Why does all that matter? Because both the quarterback and running back of Penn State had 170 rushing yards. This Tennessee defense looked to have no answer, and they need to find one fast.
TEXAS A&M
Alright, it wasn't the outcome the Aggies wanted, but give credit. They lost by three to a team that was in the Orange Bowl. And to be honest, this A&M team is not a bad team, despite their 1-3 record. They've had a couple close games with a blowout loss and a blowout win. What proved to be a bit different was quarterback Walker Mills, who threw for 213 yards with a touchdown pass and no interceptions. In a game where halfback Jimmy Tickle was limited to 76 yards on 23 carries, albeit with two scores, Mills had to answer in a big way. Walker added 17 carries for 51 yards of his own, although he did fumble. But still, this offense looked good against a stout defense, and if Tickle gets back to the form we expect, then watch out.
As for the defense, well, linebacker Damien Willis made his presence known. Seven tackles, a tackle for a loss, and a sack. Then linebacker East McFadden added eight tackles, three of which went for a loss. And finally, safety Sky Taylor racked up eight tackles to call his own. The defense played well, just needs some fine-tuning is all. Tonight, could be the game where it all comes together defensively, much like they did against Washington.
WHAT TO WATCH FOR
Will the real Jimmy Tickle please stand up? We want this dude to do to defenses what he's been doing over the past few weeks, and that was run all over them, despite opponents game-planning for him. Tickle should just leave his opponents in the dust, although, we all know that Buster Bates will try to leave Tickle seeing stars.
PLAYER MATCHUP
FS Andrew Tillman vs. QB Walker Mills
While we all know Tickle is a monster, Walker Mills proved last week that he can step up if Tickle is having an off-night. Tennessee knows what Bates brings, but Andrew Tillman showed he can make plays too. So it comes down to Tillman and Mills in my mind. With Tillman proving to have an affinity for making plays, we'll get to see what Mills is really made of when he is called upon. This may not be the most exciting aspect about tonight, but it's certainly intriguing.
PREDICTION
I admire what Texas A&M has going for them as an offense, and their defense has certainly had it's moments. The question is, can they put it all together, and can they do it against a Tennessee team that isn't too happy with how last week ended. So, where does that leave us? Well, I have to lean with the quarterback who has the experience and that's Dewey Ainge. I'm trusting Ainge to make fewer mistakes than Mills, despite a relatively clean game a week ago. All of that said, I expect another three point nail-biter tonight, but with the Volunteers on top.
Tennessee 38, Texas A&M 35