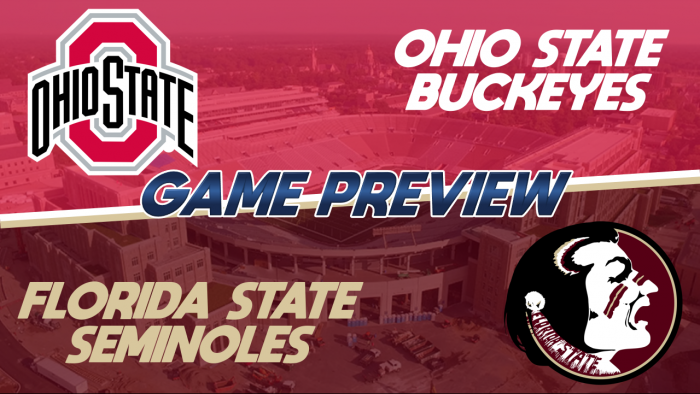 The Buckeyes found a way to win last week, while Florida State found themselves on the wrong side of a 21 point comeback. It's definitely not how that game should have ended considering that the Seminoles controlled it for a better part of that game. Yet, here we are, with both Ohio State and Florida State owning a win on the season. So, the question becomes, which team will claim their second win of the season? Well, let's see if we can't paint an answer to that question. Shall we begin?
OHIO STATE
This offense stormed to a 23 point victory over TCU last week, and this offense finally put it all together. Sometimes it takes teams to find their offensive stride, and the Buckeyes certainly did, as halfback Frost Carlson took 20 carries for 152 yards with four rushing touchdowns. Quarterback Xavier Garcia-Allen went 21 of 28 for 209 yards with no turnovers but no passing touchdowns either. The best part, though, was that Garcia-Allen was able to turn 25 carries into 148 yards with two rushing touchdowns of his own. The rushing tandem between Carlson and Garcia-Allen got hot a week ago, and they'll need to continue that trend.
Defensively, well, they held a high-flying TCU offense to the short passing game. While safety Kevin Brackett didn't turn in a defensive player of the week performance, he still led this defense in tackles, racking up nine to go with his pass breakup. To add insult to injury, corner Juan Cantu is going to snag an interception one of these days. While Cantu only landed a single tackle, he did tally three passes defensed, all three of which could have been turnovers. While this defense was unable to record a turnover, they held TCU to a third down conversion rate of 35%. Once this defense starts landing these turnovers, though, watch out.
FLORIDA STATE
Well, they can't really get any more heartbreaking than that. It's not very often that you have a quarterback like James Kovach go 36 of 51 for 432 yards, with six passing touchdowns to offset a lone interception that occurred in the first half. It's also not very often that a team's quarterback puts up those kinds of numbers and you still wind up on the losing side of the scoreboard. Still, it's difficult to win against play like that, especially when wide receivers Jared Tetonis and Alber Saenz play at this level, it's hard to counter. Tetonis saw seven catches go for 121 yards with two touchdown grabs while Saenz took eight catches for 151 yards with a pair of touchdown grabs of his own. This offense is lethal.
Giving up a 21 point comeback hurts, but this Florida State defense seems to have a weak spot for rushing records by opposing offenses. We know the history with Michigan, but last week, this defense gave up the longest touchdown run in CFSL history, a 100 yarder to an opposing quarterback. That said, linebacker George Tetonis had quite the game, racking up nine tackles, two of which went for a loss, and recorded a sack. Then, defensive end Marlon Davis added seven tackles, four for a loss, which were a part of his four sacks. The defense played well, just not well enough late. They can't afford that tonight.
WHAT TO WATCH FOR
As well documented as Florida State's weakness against the run is, they've got to try and fix it because they've got a rushing tandem in Ohio State's backfield that got hot last week. Expect the Buckeyes to lean on that tandem once again as a means to guide Ohio State to victory and force the Seminole defense to play aggressively in the box. Maybe then we can see what kind of an arm Garcia-Allen's got going for him.
PLAYER MATCHUP
HB Frost Carlson vs. LB George Tetonis
While Tetonis had quite the performance last week, Carlson did better. It's why this matchup matters so much. While Tetonis had the game he had, he has to repeat it and bring the fight to Carlson. If Carlson is able to have a big game, then Ohio State will be able to do what they want. But if Tetonis can find a way to minimize Carlson, then the pressure is on Garcia-Allen and that would allow Florida State to breathe a bit easier.
PREDICTION
Alright, Florida State can strike fast and they've got a better passing attack than TCU. We know this defense was able to limit it but I have a hard time seeing that be repeated tonight like it was last week. That said, Ohio State has got to force the Seminoles to play underneath. No deep shots should be allowed, and a couple turnovers would help the Buckeyes. That said, I can't see the Seminoles letting another team run all over them and this offense is going to find a way to make plays. Seminoles win it going away.
Ohio State 31, Florida State 48