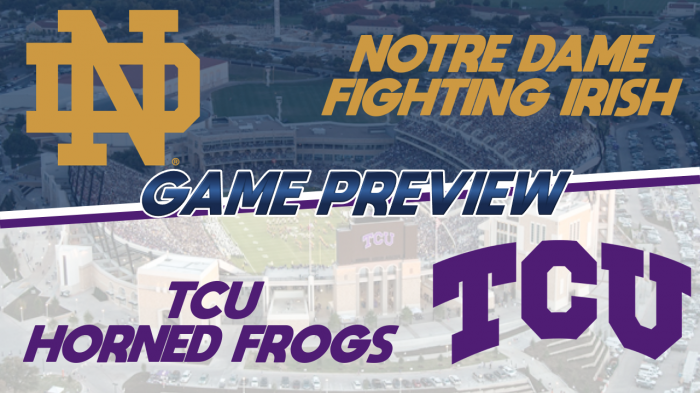 Notre Dame finally gets out of their own state for the first time all season, and that could help or hurt. After all, the Fighting Irish are 3-1 this season. TCU gets to return home after a two game road tour in which they dropped both, and have been struggling a bit since week two. The Horned Frogs haven't struggled quite so much as they did last week though and the hopes are that something changes tonight. Let's see what could change for TCU and what Notre Dame hope doesn't change as we take a deep dive into this matchup.
NOTRE DAME
Okay, quarterback Jose Bueno has found his groove. Some guys take longer and that's okay, what matters is that they find it before mid-season. Bueno, a week ago, threw the ball 32 times, completing 26 of those for a total of 279 yards with a score. Not bad, but this next part was great. Bueno turned 17 carries into 105 yards with two rushing touchdowns last week. It was a day for Bueno, but he wasn't alone. Halfback Joe Pantoja added on to the ground attack with his 23 carries, rushing for 102 yards and scoring twice himself. Notre Dame has found the rushing tandem formula, and they're hoping it keeps working.
When your defense has an interception, some pressure, and holds your opponent to a third down conversion rate of 40%, it's usually going to be a good day for your team. That's exactly what happened here. Corner Tyrell Solo snagged a pass out of the air to help his offense with some nice field position. Then, defensive end Shane Razorback came up with a sack to go with his three tackles and two tackles for a loss. No one on this defense had a lights out game that would make your jaw drop, but the collective effort of this unit worked.
TCU
Well, that's not what we would have expected from this offense. The Horned Frogs mustered 22 points and were relegated to a lot of short throws. Some dropped passes certainly didn't help this stat-line either as quarterback Dalton Andrews completed 25 of 43 pass attempts for 283 yards with two passing touchdowns. Now, he did have a 51 yard completion, but for the most part, a quiet night by the Horned Frog offense, especially the quarterback. Each of TCU's receivers dropped a pass at least once, including tight end Cody Ganakas who has proven himself to be a major threat in the league. Ganakas was limited to just four catches for 61 yards and didn't even score last week. Ideally, being at home will help pick this offense back up.
Defensively, well, we can boast about linebacker Aaron Davis delivering 13 tackles with a tackle for a loss, but the reality is they gave up 45 points to a team who was winless at the time. And yet, safeties Kobe Jordan and Vonn Harris each recorded eight tackles of their own to help Davis out. If this defense can force some turnovers and get better on third down, as they gave up a conversion rate of 57% last week, then this team is back in business.
WHAT TO WATCH FOR
While TCU has the offensive firepower that we've expected for the early parts of the season, let's be cognizant of the Notre Dame rushing tandem that caught fire last week. Also keep in mind, it was a rushing tandem that hurt TCU last week, so expect Notre Dame's formula to be replicated tonight and we'll see if they can replicate the results.
PLAYER MATCHUP
CB Tyrell Solo vs. WR Andre Gyan
We already mentioned Solo, the man who who steps up for Notre Dame more often than not. He's got a big responsibility against TCU receiver Andre Gyan. While Gyan has not been nearly as explosive as he was last season, he's still capable of it. That's why Solo has an important job tonight. He has to limit Gyan and prevent him from making big plays, because Gyan was right behind Ganakas in receiving for a while, and Gyan seems due for a big game of his own. Solo needs to make sure it doesn't happen on his watch.
PREDICTION
TCU is back home and we'll see if they can rebound and figure out how to limit the newfound Notre Dame rushing tandem. Bueno and Pantoja are a very real threat, especially considering what happened to TCU in Columbus a week ago. Still, this defense can find a way, which leaves the Horned Frog offense. They can't be conservative tonight and need to trust their quarterback and receiver corps. It will go a long way against this Fighting Irish defense, but only if TCU can hit the big plays. At the end of the day, I think Notre Dame is too hot right now for TCU to pull the upset, but they certainly make it interesting.
Notre Dame 45, TCU 42