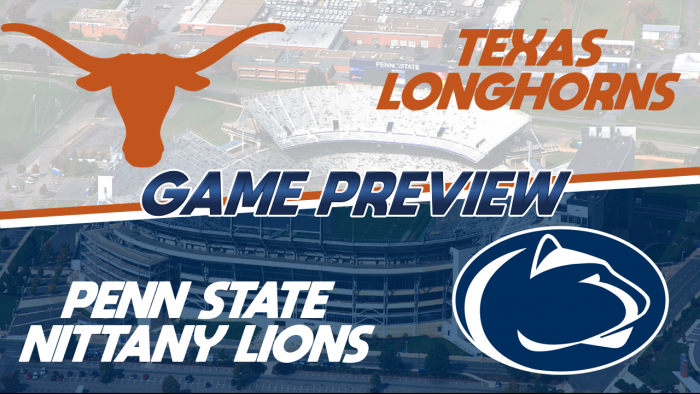 A two very different teams with very different stories take the field tonight. Texas' offense that boasts versatility walks into Happy Valley feeling anything but. The Longhorns are in the midst of a two game skid and are looking to avoid losing three straight. Penn State is home for the second straight week and they are feeling happy. After an 0-3 start, the Nittany Lions defeated the reigning National Champions last week, and did so by 12. The question is will a streak live on for one team, or will the home team begin a very new streak? Let's break it all down.
TEXAS
Let's paint this picture the right way for the sake of the Longhorns. This offense put up 33 points, and fell short by five. While the Longhorns are 2-2, they shouldn't feel bad. Quarterback Ray Tatum, to offset his lone interception, threw two touchdown passes, throwing for 276 yards on 22 completions of his 32 attempts. Not bad, just some minor tweaks are needed to help him out. For example, we see halfback Geaux Bamba roll into the endzone twice and that's pretty good. What's not quite so good is his 20 carries only recording 86 yards. It's not terrible, but it's a far-cry from what this rushing attack offered last season. Converting 40% of your third downs isn't the worst thing, but the Longhorns could certainly do better there. Improvements to be made? Yes, but Texas is as dangerous as ever.
That previous statement rings true for the defense as well, and I know they gave up 38 points. However, they managed to only give up 38 points despite two different members of the Fighting Irish rushing for over 100 yards. Safety Jimbo Smithers had himself quite the game, recording 23 tackles and three tackles for a loss, keeping him just shy of the single game tackle record. Oh, and Smithers had a pass breakup and a forced fumble. But linebacker Justin Boudreaux wasn't quiet either. Boudreaux recorded 12 tackles with three tackles for a loss of his own. This defense has come to rely on Boudreaux and Smithers, and it doesn't seem to be hurting them too much.
PENN STATE
Okay, now we're getting somewhere Penn State fans. This offense could not be contained last week, converting third downs at a rate of 78%, which is insane. What's crazier though is what Aidric Berry, the quarterback, was able to do. Now, his 212 passing yards with no touchdowns and no interceptions won't impress you, although that's not bad by any means. What should impress you, though, is his rushing numbers. Berry turned 25 carries into 170 yards with a total of six rushing touchdowns. Six! Then you add in halfback Robert Davis who turned 20 carries into 178 yards. While Davis didn't score, he made it possible for Berry to, and that means this rushing tandem is dangerous and we know they've got some playmakers at receiver too.
This Penn State defense, while not seeing a player go above and beyond or play out of their minds, were able to put a nice game together to aid their offense. They kept the Volunteers to a third down conversion rate of 40%, which helped. Corner Harper Allen had an interception in the endzone, which was a big help to the Nittany Lions offense. And then, the fact that this defense tallied three sacks made a dent too. Defensive end Barry Morgan likely had the best game, nailing down five tackles, three for a loss, with a sack on the evening. It was a nice game by the Penn State defense and one that they certainly would love to grow on.
WHAT TO WATCH FOR
The Nittany Lions are going to be riding the hot hand while all Texas has to do is make a couple tweaks to their offense while the defense tries to solve the Aidric Berry problem. That's easier said than done, but Texas is one of just a few teams who are equipped with the talent in the right places to be able to minimize the damage that Berry can do. But, the Longhorns have to dial in and be prepared to stop it. Like I said, easier said than done.
PLAYER MATCHUP
CBs Jalen Davis and Terrence Top vs. WR Ronald Fields
So, I left a couple players out. Texas has a couple corners in Davis and Top who have come up big and made major plays for the Longhorns recently. However, they've got their work cut out for them facing Penn State receiver Ronald Fields. Fields was quiet last week, sure, but this dude has all of the touchdown passes that Berry has thrown, making Fields top five in scoring from the wide receiver position. It's a matchup to watch for sure, because if Davis and Top aren't ready, Fields could have another big night.
PREDICTION
So, here come the Longhorns, marching into the Lions' den as it were. They've been on a two game skid, those of the burnt orange I mean. And tonight does not get easier. It's very real that the Longhorns slide to 2-3 tonight with Penn State being the victor because this rushing tandem between Berry and Davis is too much with some Fields mixed in. Then the defense has to keep making plays as they have and finding a way to force stops and turnovers. Now, let me give you the alternative possibility. Texas strolls into Happy Valley and totally neutralize the Penn State rushing offense as a result of Smithers and Boudreaux. This forces the Nittany Lions to attack the secondary on the arm of Berry. Not the best recipe for success if you're the Nittany Lions, and the Texas offense could absolutely keep rolling, with Bamba finding himself a big game. Let me ask you, which is the more likely scenario? Perhaps my final score will give you a hint.
Texas 35, Penn State 38