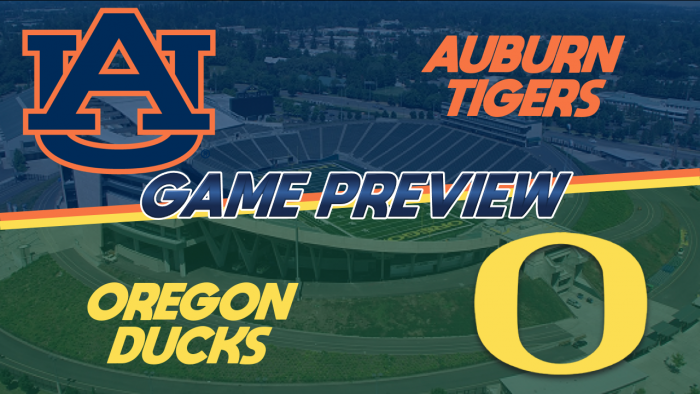 Auburn is flying into the state of Oregon as a means of trying to even their records. The Tigers have been in the midst of a two game skid while the Ducks are sitting with a nice 4-1 record and are trying to have a nice buffer going into conference play for the season. There's been some mild talk leading into this one, but we'll see if it translates to the field. Let's examine it closer.
AUBURN
The Tigers are sporting an offense that is headlined by halfback Billy Carter, who turned in another 100+ rushing yard performance. Carter racked up 182 yards with two touchdowns on the ground. While Billy may be the headline act, quarterback Griffin Jelkic is using his legs to do his part as he tries to grow as a passer. Two picks don't help but they're valuable experience for Jelkic to find his weapons. As Jelkic has come to find safety in tight end Chris Bullard, who has a couple touchdown grabs this season. The young quarterback has turned to receivers Bubba Davis and Jace Rosser for critical plays and they've certainly answered the call more often than not. As things stand, Jelkic is due for a breakout passing game, and that would likely be bolstered by receiver Wayne Carter. For tonight, though, that would be quite the order for this offense.
This defense continues to make devastating plays. Whether it's the crunching hits by safeties Ollie P. Peters and Eric LeClear, to momentum swinging turnovers by corners LaRoi Sanders and Jesus Kitchens. Then you factor in plays in the backfield by linebackers Jack Law and Micah Myers and well, this defense is certainly dangerous. They'll have to be more than dangerous tonight though and have absolutely got to find a way to stifle this Oregon offense to the best of their ability. Peters will be a big part of that as he recorded 15 tackles a week ago and seems to consistently be in that 12-15 tackle range every week.
OREGON
These Ducks are 4-1 and they've accomplished that record by a myriad of ways. Quarterback Devonta Cribbs illustrated last season his running abilities, but this season he's taken flight a bit more. He put up 248 passing yards a week ago with two touchdown passes to offset his lone interception. While Cribbs is rushing less, halfback Speedy Love has taken off, racking up 151 yards on the ground with a pair of touchdowns himself last week. The story of tight end Humphrey Wells has not gone unsung as he continues to make plays. But it's the rest of the receiving corps which has been stepping up even more. Receivers Coty Betts and Dijon Swann each hauled in 70+ receiving yards last week. While receiver King Twixx may not have had a major game, he plays a major role for this offense, especially on third downs it seems like.
Defensively, well, it's the Oregon defense. What can I say? They've continued to make plays and each member of this secondary recorded a pass breakup last week. While safety Jack Frost is the usual suspect as far as tackle leaders on this team, it was actually corner Israel Cassius who led the way a week ago. Cassius recorded 10 tackles with a tackle for a loss while Frost recorded just one. Thor Odinson, the corner opposite of Cassius, added seven tackles with a tackle for a loss himself. Odinson then forced a fumble in the victory a week ago. This defense's strength is the secondary, but the question is, can they shut down the Auburn rushing attack tonight.
WHAT TO WATCH FOR
Auburn isn't likely to test this secondary, but that doesn't mean they won't take some shots. In order for that to happen, they'll need to rely on the formula of running this offense through Billy Carter and dare this secondary to play underneath. If that works, and Auburn can get Jelkic to take shots, they could get away with punishing these Ducks.
PLAYER MATCHUP
HB Billy Carter vs. LB Noah Lopez
While we know this Oregon secondary is incredibly strong, they really can't afford Billy to make it to the third level consistently. That's where Noah Lopez comes in. He's made a lot of impressive plays for this defense in the past, but he has to take this game over for the Ducks to have success. Lopez will have to consistently make plays in the backfield and force Carter to earn his way back to the line of scrimmage.
PREDICTION
I don't anticipate this game will be outrageously high-scoring. Heck, I don't know for certain that either team will crack 30 points tonight. It's not impossible, but with these defenses, it's difficult. Auburn's reliance on the ground game will only help if they can utilize play action off it and take shots downfield to these receivers. Oregon's offense will have to see Cribbs run like he was last season, and that will be big for the Ducks. I imagine Oregon wins a close win at home and sends Auburn to an even .500 record.
Auburn 24, Oregon 27