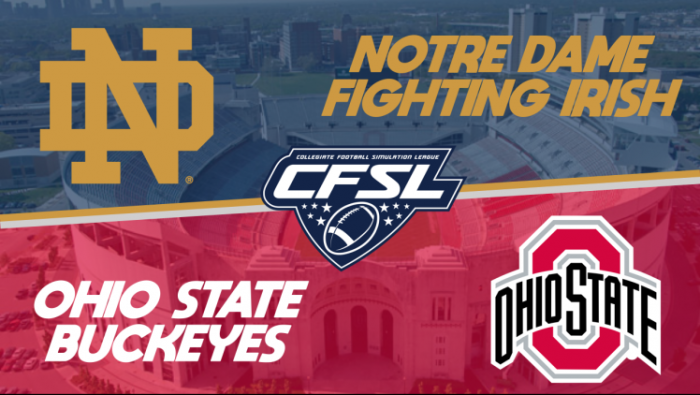 In tonight's recap, Notre Dame and Ohio State meet again for their fourth installment in their series. Currently, the Buckeyes have never been able to solve the Irish problem but that could change tonight.
Notre Dame is coming off of 48-13 drumming of TCU. Ohio State enters this game after shutting down Florida State, 34-13.
OFFENSIVE OUTLOOK
Taking over for Ty White was no easy task but Jose Bueno has looked the part recently of his 5-star status. Bueno has accounted for 14 total touchdowns with nine on the ground. His backfield mate, Joe Pantoja, has struggled this season with a 4.8 yards per rush average. Wideouts Skyler Schnee, Upton O'Goode and Bojangles Jackson pace the ninth-rated passing attack in the league. Tight-end Alistair Kyle provides Bueno with a solid security blanket but drops come into question as he is tied for the league lead at eight. In fact, two of ND's receivers are tied for first in drops, Upton O'Goode, and Alistair Kyle. If Ohio State shuts down the Irish's passing attack, these receivers will be relied upon to move the chains for this offense.
Speaking of Ohio State, they rank third in the league in rushing. Quarterback Xavier Garcia-Allen, or XGA, has seemed to found his footing in the league with 893 passing yards and 572 rushing yards. Halfback Frost Carlson has averaged an impressive 6.7 yards per carry with eight touchdowns. Royce Mills, Speedy Johnson and Jay Duhbbin round out the passing attack for Ohio State. Tight-end Frank Andrews adds another element to this passing game and will look to get involved more tonight.
DEFENSIVE OUTLOOK
Look, when you can make TCU's offense only scored 13 points, your defense is doing something well. The absence of Tyson Ali has not hurt Notre Dame much as Shane Razorback is starting to make a name of his own. Razorback already has 20 tackles, 12 for a loss and seven sacks. Two more sacks and Razorback will have his best year for Notre Dame in his third season. Defensive backs Tyrell Solo, Jackson Stone, LaQuarius David, Michael Pluth and Lamont Terrier were effective in limiting TCU to just 297 passing yards. Tonight will look a bit different as Ohio State leans more on the run than the pass.
With that, how about Ohio States defensive performance last week? They also limited a high scoring team in FSU, to just 274 yards passing. This week will provide a different challenge as Notre Dame runs more of a read-option offense. Linebacker Scottie James will look to put together back to back weeks of 10+ tackles as he had 11 last week. Juan Cantu will get a great matchup tonight against Notre Dames Skyler Schnee. Land Shark, Kevin Brackett, suits up tonight to shut down the edge against Bueno. Assisting him will be Tom Pence, who will likely cover Upton O'Goode.
KEY MATCHUP
Ohio State FS Kevin "Land Shark" Brackett vs Notre Dame QB Jose "Taco" Bueno
There has been some chatter this week in the chat between these two and this provides a fitting matchup. With Notre Dame running the option, this gives Brackett plenty of opportunities to shut Bueno down. If he doesn't, then it could be a long night for this Ohio State offense.
FUN FACT
Both Notre Dame and Ohio State shut down the top passing teams last week and only allowed 13 points each. Tonight does not figure to be a passing game but which team will step up and stop the run?
PREDICTION
Ohio State needs to come into this game hungry. They have never beaten Notre Dame and are in need of a dire conference victory. The Irish, however, have won three in a row and things seem to be clicking on defense. While many could consider this an easy victory for Notre Dame based on the talent on paper, I think Ohio State has it in them to make this closer than it appears. Notre Dame takes a tough fought defensive battle, 27-23.