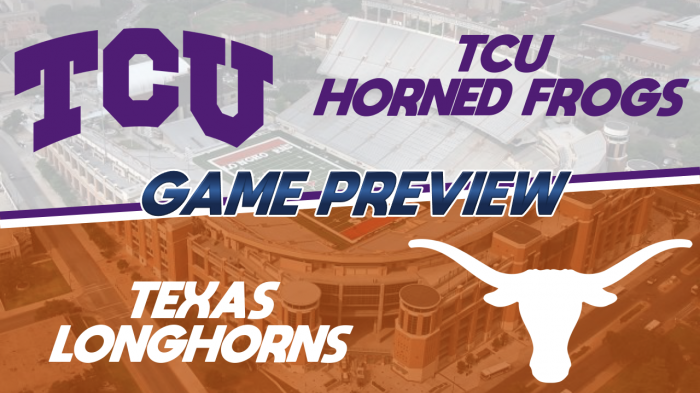 Texas and TCU kickoff conference play tonight for the first time in season four. Texas is coming off a 70-7 win over Penn State, while TCU has dropped their last four including a 48-13 loss to Notre Dame.
OFFENSIVE OUTLOOK
The storyline tonight will be the two offenses. TCU boasts one of the top passing attacks in the league with Dalton Andrews behind center. This season, Andrews, has passed for 2068 yards with 13 touchdowns and six interceptions. One thing to note is that five of those interceptions came last week against the Irish.
Andrews top target coming into this season was Andre Gyan but so far it has been tight end Cody Ganakas. Ganakas has provided a solid middle target for Andrews with 46 catches and 557 yards. Ray Conley and Horace Lynch round out the TCU offensive passing attack that ranks first in the league.
Texas, on the other hand, comes into this game after putting up 70 points against Penn State. Ray Tatum broke numerous records with 645 passing yards and eight touchdowns. The biggest benefit of his play? Tight end Jaxson James. James broke the receiving record with 226 yards and two touchdowns. The Longhorn offense finally opened up with Lewis, McCoy, and Scaliso all contributing over 70 yards receiving.
DEFENSIVE OUTLOOK
While Texas can stake their claim for the best defense in the league, TCU is on the other side of that spectrum. The Horned Frogs boast one of the top defensive linemen in Jabril Jackson but Jackson has started slow this season compared to his stellar freshman campaign. Middle Linebacker Aaron Davis should be involved more tonight as Texas has a home run threat in Geaux Bamba. Kobe Jordan roams the backend of this defense as TCU's free safety.
The one knock against TCU is that during their four-game losing streak, they have not been able to stop opposing offenses. The last four games TCU has given up 40+ points, in their only win? 35 points to a Penn State squad that could only score one touchdown last week against Texas.
Speaking of Texas, the Longhorns defense completely shut down any hope that Penn State had. The Longhorns play third-down defense the best, only allowing 30% conversion rate. That is better than the second place team, by eight percentage points. The reasoning behind that? The Longhorns are fast on defense and are led by safety Jimbo Smithers.
When Nate Jones left after his senior season, there were questions on who could fill that void that he left as the best impactful defensive player. Well with my unbiased opinion, that player is Jimbo Smithers. Smithers has accounted for 71 tackles, 14 for a loss and one sack. We will get to see Smithers in coverage for most of the night as he will take on Cody Ganakas. Rounding out the stellar Texas defense are linebackers Jaxson Morrow, Howard Cook, and Justin Boudreaux. Corners Terrence Top and Jalen Davis will be leaned upon to stop the TCU passing attack.
MATCHUP TO WATCH
Texas QB Ray Tatum vs TCU Defensive Backfield
Last week we saw Ray Tatum set records against a weak Penn State defense. This week, Tatum goes up against DBs Erik Gibson and O.J. Dawkins with Kobe Jordan assisting with the deep ball. Things could get ugly for the Horned Frog defense if Gibson and Dawkins are unable to slow the Texas Two-Step wideouts in McCoy and Lewis.
FUN FACT
As mentioned previously, Texas leads the league in defensive third-down conversions with 30%. Tonight they go up against a TCU offense that is 9th in the league in converting third downs.
PREDICTION
This should be an easy game to predict right? Wrong. TCU, while in a four-game slide, has the type of offensive capability to keep up with teams. Andrews can look really good, or look really bad like he did last week. Texas has not faced an offensive team built like the Horned Frogs this season so far. The secondary of Texas will have their work cut out for them in this game.
Texas comes out firing but TCU makes it close late. Texas wins 45-34.