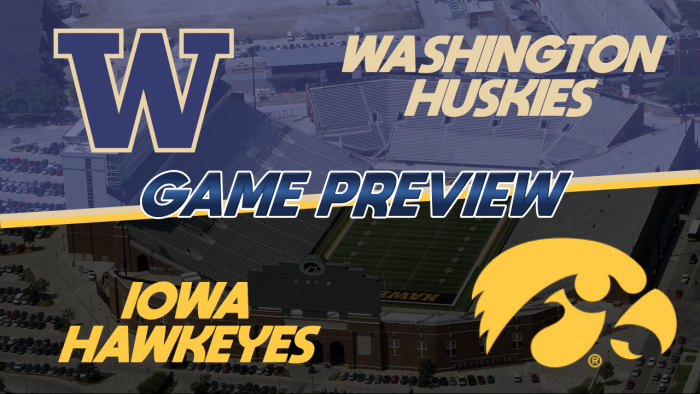 Well, here comes Washington. They lost the heartbreaking close game to Clemson a week ago, but that can be erased with a win tonight. Iowa's loss last week wasn't a heart-breaker, but it definitely hurt the Hawkeyes. To lose by 13 can devastate any team, so the question is, who will hold on to that losing feeling a little bit longer? Let's find out.
IOWA
It's tough to lose in that fashion, especially when your quarterback shows up in the air. Quarterback Joe Kane put up 300 yards against the "No Fly Zone" and had two touchdown passes to offset his lone interception. Halfback Avery Jordan may not have had the game he anticipated, but he did his part. Because of the passing clinic, though, this receiving corps showed up. Receivers Darren Pegues, Levonte Thompson, and J.J. Meis had quite the night. While Meis didn't score, Pegues and Thompson did. Then tight end Franklin Richards recorded over 80 receiving yards. This offense will need another big night, but a bit more balanced I believe.
Defensively, they gave up 40. Linebacker Jerry James was able to record 11 tackles with a tackle for a loss, and corner Neal Mason had a big game. Mason tallied five tackles two for a loss and a pick. Then, you had defensive end Mohammad Dmour, who only had two tackles with a tackle for a loss and a sack. While that number isn't explosive, Dmour did force a fumble. Unfortunately for Iowa, though, they were unable to recover it or turn it into major points for the Hawkeyes. That needs to change tonight.
WASHINGTON
Heartbreak can come all too often in the CFSL, and the Huskies were the latest victim of heartbreak. Quarterback Doug Ohle had an impressive night, completing 22 of 29 for 227 with two passing touchdowns. Unfortunately, Ohle also threw a pick and in close games like this, an interception can make the difference. Halfback Ron Dayne Jr.'s down night couldn't even cover up for how costly turnover. That said, it's sad that 22 carries for 107 yards with a touchdown is a "down" night for somebody, but for Dayne it was. This wide receiving corps of Lord Helix, Matty Rose, and Jacob Iverson can make massive plays and are extremely dangerous. And don't forget tight end Derrick Gray either, who more often than not has a knack for stepping up on third downs for this offense.
This defense did its part, forcing a couple turnovers can be major, recovering both is better though. Linebacker Dejounte Wilson and safety Kalu James each forced a fumble. The problem for the Huskies is certainly not linebacker Erik Langston, who recorded four tackles for a loss to go with his 10 tackle performance. This defense will need to find a way to recover these turnovers so the offense can capitalize. Otherwise, this defense was awesome last week.
WHAT TO WATCH FOR
I anticipate Joe Kane will go back to his running ways this week, which means the Washington run defense will need to be on their toes. They were solid last week, only giving up about 120 rushing yards in total, but they'll need to repeat that tonight.
PLAYER MATCHUP
QB Joe Kane vs. LB Erik Langston
Now, under normal circumstances, it would be Jordan in this spot. But Avery Jordan was kept in check last week, and it was Kane who broke out a couple weeks ago. If Joe Kane does go back to being a dominant runner, then I anticipate Langston will be the one who will have to answer the bell for the Huskies. If Langston can keep Kane contained, then the rest of this defense can maybe snag some interceptions.
PREDICTION
The Huskies and Hawkeyes both need to find a way to right the wrongs of last week. The problem is, Washington has the better firepower with Ohle and Dayne back there combined with their receiving corps. All respect to Joe Kane, Avery Jordan, Darren Pegues and the rest of the Hawkeye offense, I just can't see the Huskies dropping two straight. Washington wins it.

Iowa 28, Washington 38