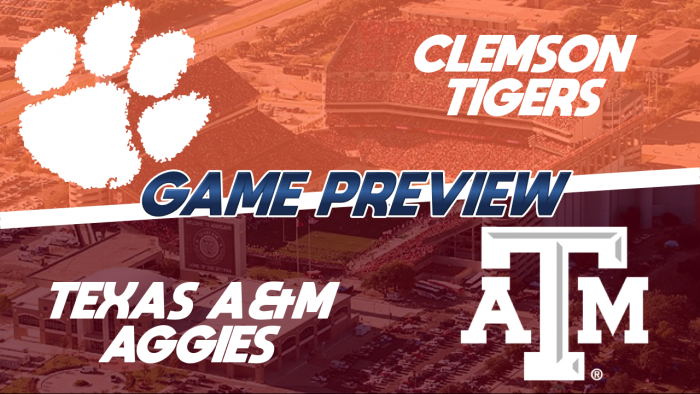 The Tigers come in looking to stay hot in the SEC, but can the Aggies find a way to unseat the Clemson Tigers? That's the big question, especially since this Aggie team has a ton of talent, and can beat top opponents (see Week Two vs. Washington). But this Clemson team is on point right now, and the Aggies will need to match that if they hope for victory. Let's examine this further, shall we?
TEXAS A&M
Not the best week for the Aggies as they fell to Tennessee 41-14 in week five. That said, quarterback Walker Mills will be the one to carry this team to its maximum. Mills is certainly a capable quarterback, the key is making him comfortable, which is something he hasn't been lately. Halfback Jimmy Tickle is a major key to that, as he has been impressive for the most part, the exception being last week. Even then, though, Tickle had a couple rushing touchdowns. The key for Mills is this talented receiver corps to get things straightened out a bit. Wide receivers Christian Barnes and Jay Wells will have to find a way to create separation for some explosive plays. Tight end Jarrett Jensen, really has been solid, coming up big for Mills when called upon. If Jensen gets some help and Mills gets comfortable, this tight end could see a big game. Oh, and they've added a receiver in DeAndre McPherson IV who could have an impressive debut.
Defensively, again, very talented. They'll need to find a way to crack down and force mistakes. Safety Sky Taylor has been absolutely exceptional for the Aggies as a defense. If defensive end Jack Browns and defensive tackle Dom Sparrow can create pressure, then not only could Taylor haul in some turnovers, but so could corners Zay Manning and Adrian Smith. And we all know Clemson's quarterback's turnover history.
CLEMSON
Speaking of Clemson, well, they won the close one over Washington. The odd thing, though, is this offense almost felt tame. Quarterback DJ Moss didn't have numbers that blow you away. 291 passing yards and two passing touchdowns with another pair of touchdowns on the ground. Nice, but nothing dynamic and halfback Mike Chadwick wasn't explosive either. Tight end Ricky Cortez is still integral to the offense, but he was quiet a week ago. Then you have receivers Jay Moe and Anthony Robertson III, who each came up with big catches but didn't light up the stats sheet. Receiver Keith Blazer did though, as he recorded 13 catches for 102 yards with a touchdown. If different receivers start getting hot, this is a whole new ball game.
As far as this Tiger defense is concerned they're solid. With defensive end Mike Miller and defensive tackle Tyson Ali, who seems to be a consistent All-American, are able to generate pressure, the Tigers have players who can capitalize. Safety Jordyn Hall had a major interception which helped the Tigers to win last week. Hall also nailed down 12 tackles with a tackle for a loss. It was an impressive performance. If linebacker Kobe King gets going, or corners Andrew Fuller and Stratton Mowry can get a couple turnovers, then this defense will be incredible.
WHAT TO WATCH FOR
Clemson has to be expecting the offense to run through Jimmy Tickle, which means the box will be stacked. Translation: Walker Mills is going to have to be the playmaker. If Mills can get going through the air or even on the ground, then this offense could help pull off an upset.
PLAYER MATCHUP
HB Jimmy Tickle vs. LB Kobe King
Both Tickle and King didn't have "lights out" games last week. But if Tickle gets going then King has to be the one to put a stop to it. Tickle and King will go head to head and that is an exciting prospect. Oh, and King can cover as well, so there's that to consider.
PREDICTION
I expect Clemson to win this game. They should win. They've gotten hot, they're clicking as a team, firing on all cylinders. This defense knows how to make plays, the offense can be electric, dynamic, and explosive. Now, that I've talked them up, let me offer this. The Aggies did defeat Washington earlier this season. The possibility of an upset here is not unreal. In fact, I think it's very real. This is for you Aggies fans, I'm taking Texas A&M, in a nail-biting thriller, to deliver a major upset in Death Valley no less.
Texas A&M 41, Clemson 38