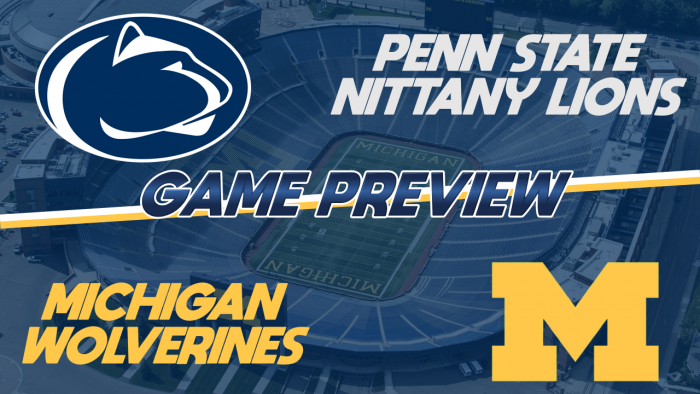 Penn State and Michigan clash at the Big House in a matchup of two Big 10 teams heading in opposite directions.
Last week, the Nittany Lions were humbled by a 70-7 defeat at the hands of Texas. Michigan, however, defeated a tough Auburn team 31-24. The Wolverines enter tonight's game at 4-1 (1-0) and have a chance to continue as the top spot in the weekly poll. Penn State enters this game at 1-4 (0-1) and will look for their first conference win on the season.
PENN STATE
A week after defeating Season three champion Tennessee, the Nittany Lions fell flat against a tough Texas squad. Penn State could not get anything going on offense and struggled mightily on third down, only converting three out of 14 attempts.
This offense is led by senior quarterback Aidric Berry. Berry, who threw for 158 yards against Texas, has totaled 19 touchdowns so far this season. The one knock against Berry is that when teams key in on his running ability, his passing game is non-existent. This was evident last week when he gained negative 21 yards on eight attempts. Berry converted 20 passes out of 38 attempts and struggled to find star wideout Ronald Fields. Fields can be a playmaker but has been quiet the past couple games. Penn State will need Fields, Medley, and Gomez to step up as the main receiving core of Penn State.
Halfback Robert Davis continues to have a solid season after gaining 118 yards on the ground against Texas. If Penn State wants any chance to have success against Michigan, they will need Berry and Davis to have monster games running the ball.
Defensively, this team struggles. Ranked last in the league in almost category, the Nittany Lions will need to figure things out quickly against a very good Michigan offense. Star linebacker Jack Tyler has been the heart and soul of this team and leads Penn State in tackles with 30. Corners Harper Allen and Leroy Brown will need to play tight defensive coverage as Michigan will likely lean pass tonight.
MICHIGAN
While Penn State struggled last week, Michigan roared with a big win over Auburn. While Javon Mack committed three turnovers, he also contributed three touchdowns. Little brother EJ Mack rushed for 134 yards and a touchdown. Bobby Jackson, Nick King, and Darwyn Garcia came down with clutch catches. The Michigan offense was balanced on offense with 201 rushing yards and 249 passing yards against the Tiger defense.
Tonight we should see more of Javon Macks arm as Penn State struggles against the pass. This game could get ugly if he finds Jackson, King, and Garcia down the field. The Wolverines are also the top team in first downs per game at 19.4 a game. If Michigan gets the lead early, look for running back EJ Mack to finish the game with over 150 yards rushing.
While Michigan is very good on offense, their defense can be a hit or miss. Currently first in rush defense at 106.6 yards per game, it's the passing game that Michigan struggles with. The Wolverines are 12th in the league by allowing 332 passing yards per game. Tonight should go well as Penn State struggles to pass and using more of a running scheme. Safeties Elliot Wells and Blue McFadden will need to play closer to the line to shut down the run. Can CB Joshua Priest Jr. continue to make a name for himself on this Michigan defense? Can Jake Lake and Jesse Horrigan shut down Robert Davis? Those questions will be answered tonight.
WHAT TO WATCH FOR
Penn State's passing game is ranked 10th in the league currently at 208.4 yards per game. While their playbook likes to run more, it would be wise for Penn State to find a balance as Michigan struggles against the pass. Berry and his wideouts will need to spread the defense out to allow Davis inside for some good running gains.
KEY MATCHUP
Michigan QB Javon Mack vs Penn State's Secondary
This is the key matchup of the night. Penn State's secondary was torched last week for 645 yards. Javon Mack, who has been called the game manager, has shown his ability to have big games against less than stellar defenses. Penn State can win this game if their defense is able to limit the big plays but if Mack finds wideouts open, watch out.
PREDICTION
This season, my predictions have been all over the place. Players have commented on my ability to predict games as the winner I pick, ends up losing. Well, sorry Michigan fans, the Wolverines roll tonight. Michigan has too good of an offense and their defense matches up well with Penn State's strength. Unlike last week's prediction, this game will not be close.
The only way Penn State can win is if they run the ball successfully against Michigan. A solid ground attack that chews up the clock and keeps Penn State's defense off the field, could allow an upset to occur. Can it happen? Sure. Will it happen? Unlikely.
Michigan 62, Penn State 12