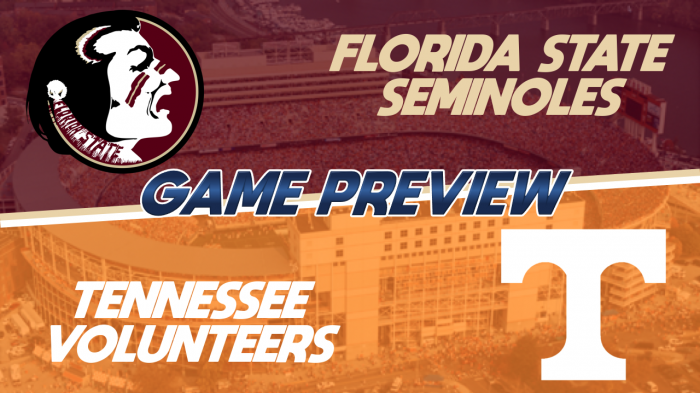 In this SEC matchup, the faltering Seminoles look to get on track against a weakened Volunteer team. Florida State looks to right themselves after being decimated by an Ohio State team on the rise. comes into this match after a great win against Texas A&M.
Tennessee
Offensively, Tennessee has one of the best passers in the game in Dewey Ainge. Ainge has been a constant playmaker, throwing for almost 1700 yards and thirteen touchdowns. One result of this is Donny Kazee, one of the most electric halfbacks in his freshman season, has been seeing a decreased production. The Vols receivers have been playing big lately. Cutter McGillicuddy, Conrad Ferrell, and Nick Bagg have been making catches all over the field and putting the Volunteers in places to win. But it is tight end Glenn Stewart who has taken center stage with a team-leading 37 receptions and 475 yards.
Defensively, Tennessee has been feeling the loss of DPOY candidate Ronald McFish. But, that hasn't stopped this team from playing their hearts out. Jumon Hilliard has stepped into his role as MLB fiercely. He looks to continue this trend. James Mithcell has been penetrating the offensive line all season, accumulating 5 sacks and 7 TFLs. Buster Bates is another name making plays all game for this defense.
Florida State
What is there to be said about this offense. James Kovach has proven himself to be one of the elite throwers in the game. And with wide receivers like he has, it is no surprise why. Each one has over 200 yards and two have over 400. The often taught greatest wide receiver in CFSL history Jared Tetonis has over 500 and does not seem to be slowing down.
While the offense can match up with the best of them, the defense has had struggles. Marlon Davis has been having a successful season, racking up 4 sacks and 14 tackles. Nate Tetonis has also been playing well, leading the team in tackles with 38. Overall, though, the entire defense will need to play at least decent if FSU wants a winning season.
Key Matchups
James Kovach vs Buster Bates
While Bates cannot cover every receiver, it is imperative he makes Kovach think about his throws. And the best way to do this is to intercept the ball. We have seen countless QBs crumble after throwing a pick, and that would leave FSU to fall with barely a whimper.
Prediction
If Bates can get his pick, something I think is a very real possibility, this game will not be close. Regardless, the Vols will probably win anyway:
Tennessee – 45
FSU – 35