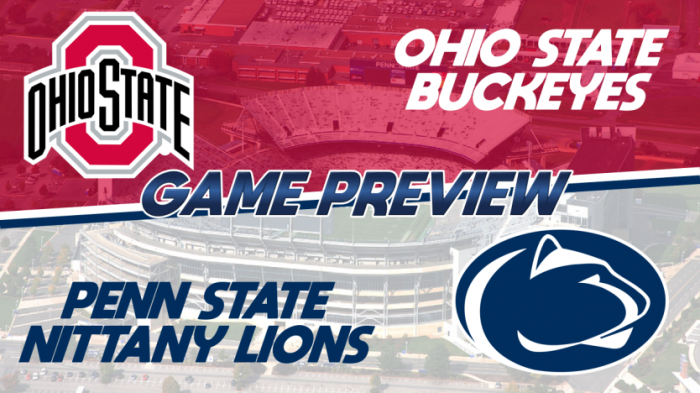 Week seven kicks us off with a bang as red-hot Ohio State (3-3, 1-1) visits Penn State (2-4, 1-1).
Both teams are coming off surprising upsets. Ohio State took on Notre Dame at home and won in overtime, 41-35. Penn State shocked the CFSL world with a win over previously number one, Michigan, 41-28.
This is the second matchup all-time between these two squads with Ohio State winning 49-25 last season. Ohio State's running back Frost Carlson rushed for 109 yards and three touchdowns in that game to lead the Buckeyes over the Nittany Lions. Let's take a look at these two teams in their second matchup.
OHIO STATE
Guts. Grit. Clutch.
Those are just some of the words that describe this Ohio State team this season and more so after last weeks shocking upset over Notre Dame. The Buckeyes started this year without their AD just a day before recruiting opened. With the interim tag applied, the new Buckeye AD RussellMania, put together a squad as quickly as possible. Using the first three weeks as a learning curve, these Buckeyes have won three straight. Blowouts of FSU and TCU were a good stepping stone to the overtime victory last week over Notre Dame.
In that game, Quarterback Xavier Garcia-Allen or XGA, finally looked the part of a dangerous dual-threat quarterback. XGA passed for 289 yards and rushed for another 117. Four touchdowns were added to his name to give him 14 on the year. His read-option partner, HB Frost Carlson, rushed for 147 yards and one touchdown, as the read-option punished the Notre Dame front line. WR Jay Duhbbin was the beneficiary of an aggressive defense and caught four passes for 129 yards and three touchdowns.
Defensively this team is led by the player known as "Land Shark." Kevin Brackett was instrumental in limiting the big plays of the Irish with his 14 tackles and one tackle for a loss. That moves him third in the league with 67 tackles so far this season. Other contributing factors to the win over Notre Dame included the lockdown play of corners Juan Cantu and Tom Pence. Both were able to lock the receivers long enough to allow Brackett to make his plays.
While on paper this team does not look the part, they certainly play the part of a well put together team. Their offense is third in rushing but has a ways to go in 3rd down conversions, which sits at a league-worst 37%. Their defense, however, ranks second in first downs allowed and fourth in total offense allowed. If their defense can shut down the run tonight, that should bode well for victory.
PENN STATE
I must admit Penn State surprised me last week. I was predicting a Michigan blowout over Penn State only for the Nittany Lions to bounce back in a big way with a 41-28 convincing win over Michigan. In that game, Aidric Berry and Robert Davis put up a rushing clinic with 126 yards for Berry and 248 for Davis. Both combined for five touchdowns with Berry having four of those. Against a tough Michigan defense, Penn State managed 445 total yards with only 71 of those coming via the pass.
This season Penn State has shared their ups and downs but no one could argue the resurgence that Aidric Berry is having on this offense. Just over one thousand yards passing, Berry has eclipsed his season two total in rushing and is closing in on his season three total. Berrys best year was season one when he passed for 2093 yards and rushed for 1068. Season four Berry is starting to look like season one Berry, if he can keep this up, Penn State should be in good shape for a good bowl game.
Rounding out this offense is halfback Robert Davis and Ronald Fields. Davis has averaged 7.2 yards per rush so far this season on 111 attempts. Surprisingly he has only two touchdowns on the year. Fields has contributed 402 receiving yards and five touchdowns.
The Penn State defense is led by Jack Tyler and Harper Allen. Both players combined for 17 tackles last week against Michigan and will look to continue the Penn States run at top rushing defense in the league.
WHAT TO WATCH FOR
Rushing offense will be the name of the game tonight as both teams come into this game ranked in the top-5 in rushing yards per game. Which combo will provide their team the better outcome, XGA-Carlson or Berry-Davis.
KEY MATCHUP
When running a 3-3-5, the SS/FS becomes one of the most important players on the field. This multiple defense brings the safeties close to the line and allows the corners to play back a bit. This technique can slow down slants as well as outside runs. The matchup to watch tonight will take place between FS Kevin Brackett and HB Robert Davis. Brackett will need to seal the edge against Penn States spread run offense to allow players like Zach Angle to clean up the middle. If Davis beats the "Land Shark", the Nittany Lions could run over Ohio States defense.
PREDICTION
While Penn State has had an up and down season so far, Ohio State has rebounded well after a slow start. This game will likely be an old school matchup of defense and running. The team that will have the ball at the end of the game will likely win it. I take Ohio State in a close one, 31-28.