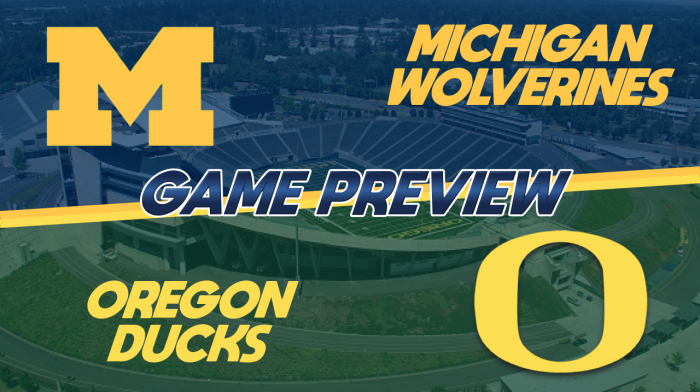 By: JustRich23
With week seven now moving in full swing, we turn our attention to the first game of the evening. Michigan takes on Oregon in what promises to be a very exciting game. The Wolverines look to bounce back from a tough loss and stay in first place in the Big10 while the Ducks hope to leapfrog Notre Dame and Michigan for the first place spot.
Michigan
Michigan has had no problem putting points on the board this season. Javon Mack continues to shoulder much of the load for the Wolverines and that should be no different in this one. Michigan's success depends heavily on Mack and we saw last week what happens when he isn't able to get it going. EJ Mack rushed for 100+ yards last week and could be in for another big game this week if his number is called early.
Questions will be asked of this Wolverines defense after giving up 40+ points last week. Jake Lake and Jesse Horrigan combined for 23 tackles combined last week but none of them were for a loss. Look for them to be extra motivated to get in the backfield and disrupt the Ducks rhythm tonight.
Oregon
Much like Michigan, the Ducks have no issues with finding the end zone. Their pass-heavy offense is exciting to watch, Devonta Cribbs, when given time, makes great decisions that result in big plays more often than not. Cribbs look poised to have another big game after connecting with his receivers for four touchdowns last week.
What to watch for
Both teams pass the ball extremely well and do a great job of moving up and down the field. Cribbs throws lots of touchdowns and makes very few mistakes. His ability to avoid turnovers will be key in this game.
The Wolverines and the Ducks, in my opinion, are two sides of the same coin, Cribbs may be the better passing quarterback but Javon Mack makes plays with his feet that leave you screaming at the screen for someone to tackle him already.
Key Matchup
Javon Mack vs Devonta Cribbs
These two quarterbacks are electrifying, Mack is a skilled runner who knows how to make a guy or two miss. His big-play ability will be huge in this game. Not to be outdone Cribbs is a gunslinger and reminds me a lot of Kovach, he throws a laser and makes really good decisions when given time. The "I'm going with this guy meter" is leaning more towards Cribbs because he doesn't turn the ball over as much as Mack.
Final Score
Michigan 28 Oregon 35