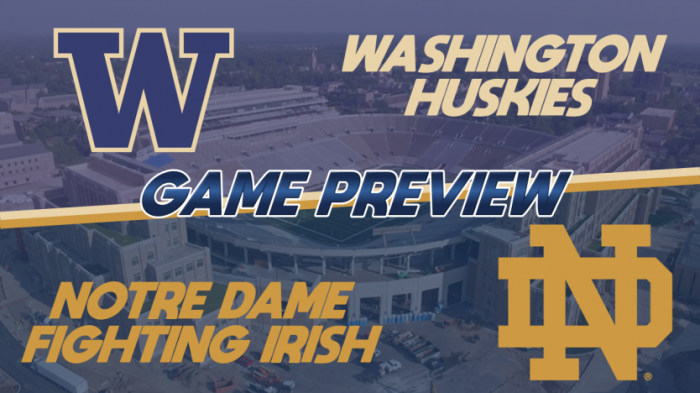 Big Ten heavyweight clashes are always an absolute delight to take in. Tonight's late night matchup is no exception. While both teams are coming off some rough losses to losing teams, each side is loaded with top tier talent. Washington has been the king of blowing teams out this year, but also has suffered some subpar losses on their way to a 3-3 record. Is the team that destroyed Ohio State and Auburn going to show up? Or is it the team that lost to Texas A&M and Iowa that takes the field. Notre dame is more consistent, albeit with losses to teams that Washington beat handily. Their big question is their ability to come out on top in close games. When the game is on the line, who is going to step up? Strap in for a great conference matchup.
Washington
Offense
It feels like it has been this way forever, but Doug Ohle and Ron Dayne Jr are the heart and soul of this Husky offense. For their signal caller, Ohle, the season has gone quite well statistically. His averages both in passing yards per attempt and rushing yards per attempt are up about a yard each with nearly 70% completion. His backfield partner Dayne has taken a slight step back with his higher usage rate. Still, the man can break tackles like no other and has an impressive 5.4 YPC. With ND having a good handle on opposing passing attacks, Matty Rose and Jacob Iverson are two names I would like to see stand out tonight. They have the ability, but can they beat the ND secondary? With Ohle slinging the ball, all it takes is a little space. Look out for some impressive passing numbers tonight.
Defense
Defensively, Washington can stop the pass with impressive consistency. Winston Schmidt is quite the contributor for being a three-star JUCO player. 42 tackles combined with an interception and a forced fumble give this corner some great stats to build on during the second half of the season. Joining him in the secondary is Kalu James, Bradley Knox, and Freddy Petty. While none of these players have recorded and interception on the year, they combine for a plethora of deflections and have made their impact felt all over the field. Not many teams can hold opponents below 230 passing yards, but they are one of the three teams doing so. If they can shore up their so-so run stopping, expect a lot of three and outs in Notre Dame's future.
Notre Dame
Offense
Ball control is the name of the game for this offense. Sporting just three turnovers this season, Notre Dame can keep things from getting out of hand by maintaining a time of possession advantage along with efficient drives. Their passing and rushing numbers are dead average in the league. You could point to their youth in the backfield as an explanation. Jose Bueno is having a successful season so far as a freshman quarterback, but his youth shows often when it comes to scrambling and tacking sacks. For as much of a runner as he seems to be, Bueno has taken some rough sacks. 13 of his 77 carries are sacks. Joe Pantoja also has been running hard on the year, with almost 10% of his carries resulting in touchdowns. Combine that with the performances of Skyler Schnee and you have a high-powered offensive unit.
Defense
When you talk about daunting defenses to line up against, Notre Dame immediately comes to mind. 26.8 points against per game is outstanding considering the amount of high powered offenses in the league. Attribute Shane Razorback and his pressure off the edge for a lot of this. It may not always show up on the stat sheet, but this man can put pressure on a QB in a hurry. Then, when the pressure is on and that errant pass gets thrown, someone in the secondary is going to come down with it. Whether its Jackson Stone, LaQuarius David, Tyrell Solo, or Lamont Terrier – the ball is getting snagged. Lets not forget MJP and his two picks on the year as well. Their contributions help keep the scores low no matter who they play.
Key Matchup
Washington QB Doug Ohle vs Notre Dame DE Shane Razorback
Razorback has seven sacks, Ohle has taken three. There aren't many people who can handle the pressure like Ohle can. Let's see how he can handle a premier pass rusher this week when he gets closer to the tackles.
Prediction
I hate to be cliché, but this game is going down to the wire. Both sides have immense talent and are near the top of the Big Ten in that regard. I must give the nod to Washington for their ability to move the ball on offense when compared to Notre Dame. They get around 70 yards more per game, and I expect that to make the difference maker tonight in a tight game.
Washington 27, Notre Dame 30