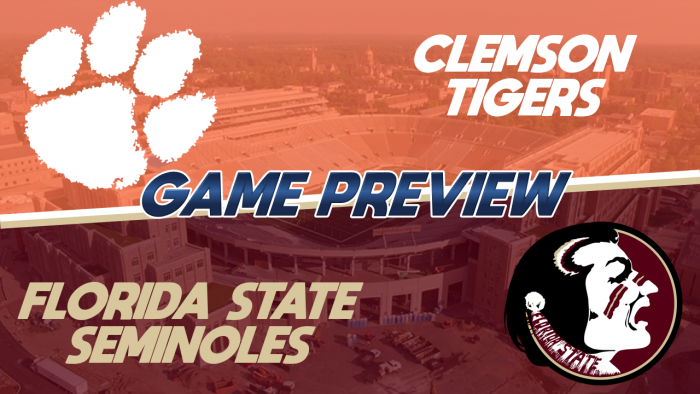 By: Zeo
Tonight we will see Clemson facing off against Florida State. Clemson is looking like the consensus number one team in the nation and Florida State is currently not ranked. These two teams have met once before with the Tigers being victorious.
Clemson
On paper we see this offense starting with season three Offensive Player of the Year winner and junior starting quarterback DJ Moss. Moss is looking to attempt to repeat on his performance last season against Florida State where he had 283 yards and a touchdown passing. He also added another 193 yards and three more touchdowns rushing. This offense is definitely more than just DJ Moss this season. Running back Mike Chadwick comes into this game with 652 yards rushing and five touchdowns alongside 289 yards and another touchdown receiving. Let's not forget wide receiver Anthony Robertson III. AR15 is Clemson's leading receiver with 529 yards and three touchdowns on only 41 receptions. This is a truly fearsome three-headed attack at Clemson and makes for a truly terrifying offense. The scariest thing is the defense might be better.
Speaking of said defense, they are also ranked number one in takeaways on the season. They also lead the league in sacks with 19 on the season thanks to the defensive line consisting of defensive tackle Tyson Ali and defensive end Mike Miller. All of this on top of allowing the fewest yards per game of any defense and the second-fewest points per game. So far this season they have earned the right to be ranked as the best defense in the league but they will have their work cut out for them this week against the high scoring offense of Florida State.
Florida State
Florida State comes into this game with the best passing offense and they are dangerous. Led by sophomore quarterback James Kovach, who comes into this game with a staggering 2465 yards passing. Even more impressive is his stat line of 20 touchdowns to only three interceptions so far on the season. This is partly done to his trio of five-star receivers. The WR core is led by the most accomplished receiver in league history, Jared Tetonis. Tetonis comes into the game with 766 yards and seven touchdowns receiving on 56 receptions.
He isn't the only name to talk about as you also have Giorgio Pipino. Pipino has 253 yards and three touchdowns on 20 receptions. To round this group off we have Albert Saenz with 555 yards and three touchdowns on 41 receptions. This offense is aided by running back Adam Croft. Croft comes into tonight's game with 353 yards and seven touchdowns rushing. He has also added 363 yards receiving and three more touchdowns receiving as well. You can start to see how dangerous this offense can be.
On defense, Florida State is not faring quite as well. The Seminoles are allowing a staggering 47.3 points a game and are allowing 526 yards a game on average. Combine that with allowing 21.3 first downs a game and a 49 percent third-down conversion rate, you can start to see why the offense has to put up the numbers they do.
Key Matchup
Clemson Pass Rush vs James Kovach
You are not able to stop this Florida State passing attack only slow it down. Clemson might just be able to do that. This game may hinge on this Clemson defensive line being able to keep the pressure on Kovach from their first snap of the game to their last. In the event they can't keep Kovach under control, this game may come down to who has the ball last.
Prediction
I see this being a fun high scoring affair with us seeing a well-balanced attack from Clemson on both sides of the ball. And an absolutely huge night for their defensive line. With that being said Florida State will put up their late-game heroics and keep it close but I just can't see them overcoming the number one team in the League.
Clemson 49 – Florida State 38