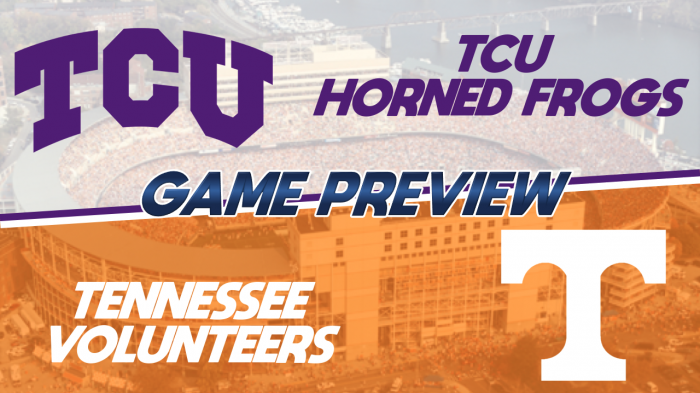 On CFSL Saturday, TCU and Tennessee look to secure a conference win and get a key head to head victory. TCU has been struggling as of late, dropping their last five after a week one victory over Penn State. Tennessee has been playing with a new fire, winning two straight against Texas A&M and Florida State.

TCU
Dalton Andrews has been sizzling hot all season long. He has 2,344 yards, good for third in the CFSL, and 14 touchdowns. His receivers have been spoiled to be in this system. All of them have over at least 300 yards, Ray Conley and Andre Gyan both have five touchdowns. Star tight end Cody Ganakas has over 600 yards and is one of the CFSL's premier pass catchers. Koda Adok, however, is suffering due to the extreme focus of passing the ball. He only has 354 yards and five touchdowns.

Defensively, TCU has plenty of playmakers, but none of them have gelled to form an elite defense. The main attraction on this defense is 5-star MLB Aaron Davis. Davis came into this week just ten tackles out of the league lead and looks to put himself closer to that spot. DE Jabril Jackson needs to put pressure on Andrews and force him to move around. Defensive backs O.J. Dawkins, Erik Gibson, Vonn Harris, and Kobe Jordon have to lock down these receivers if they want a chance.

Tennessee
Oh man did this offense look good last week. Albeit against a fairly weak defense, the Vols managed to put up 64 points, one of the highest point totals the CFSL has ever seen. Dewey Ainge has continued to impress the fans, racking up almost 2200 yards and 18 touchdowns. Tennessee has two receivers with 500+ yards, Conrad Ferrell and Glenn Stewart. Nick Bagg leads the team in touchdowns with six. Donny Kazee, after a breakout freshman season, has had a down season with only three touchdowns and just under 500 yards.

One of the standout stars on this defense is James Mitchell. The one-man wrecking machine has 18 tackles, eight TFLs, and eight sacks. Buster Bates, the 5-star safety, leads the team in tackles with 43. Overall these cats have been playing well, but if they want to stay in contention for a title they will have to complement their offense and get them the ball back.

Key Matchup
Dalton Andrews vs Buster Bates

Bates is going to have to prove himself as a lockdown coverage man if Tennessee wants to stop the fearsome Andrews.

Prediction
TCU is a one-dimensional team that when that one dimension works, they are tough to beat. It is imperative that the Tennessee secondary slows this passing game down. It is the same message for the TCU secondary. I think that TCU has more pieces there and will win:


TCU: 52

Tennessee: 45