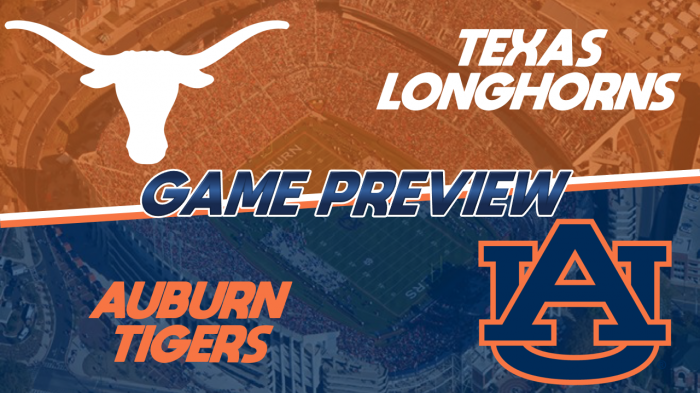 Alright, here we go. A major SEC tilt on the horizon, and one which can also have a major shake up in the rankings considering what else has happened this week. Auburn found a way to avoid a three game skid by unseating Oregon a week ago. Texas, meanwhile, has been all sorts of hot every since they beat Penn State. So let's examine this closely.
TEXAS
Say hello Longhorns fans, because quarterback Ray Tatum is figuring out his arsenal. Wide receivers Vincent McCoy, Dedric Scaliso, and Scooby Lewis have all had major games. Indeed, they're all pretty significant contributors to this offense. Each one can turn in a pretty impressive game on any given week. The more impressive factor, though, has been tight end Jackson James. James came into this tied for the most receiving touchdowns this season, which is impressive considering how limited his scoring was a season ago. James has had the most astounding impact to this offense and certainly won't diminish. Then there's halfback Geaux Bamba who, despite his talent, has almost taken a backseat in this offense. He's not the headliner anymore, and maybe he's okay with that.
Defensively, well, you've got Jimbo Smithers playing free safety. This young man continues to impress as he finds ways to knock the ball and teeth loose all in one hit. That's a big deal and so is the fact that linebackers Jaxson Morrow and Justin Boudreaux are proving to be consistent contributors to the Longhorn defense. As they continue to find players who step up on different weeks, Boudreaux and Smithers have been the most consistent top-performers of this Texas defense. They'll have their hands full, but they'll have a lot of fun too.
AUBURN
The Auburn Tigers have quickly found themselves back on pace, but the questions linger. Can this team really climb to the top of the SEC? The offense has had its share of difficulties, but quarterback Griffin Jelkic has been making strides recently to benefit this team's chances. Wide receivers Wayne Carter, Bubba Davis, and Jace Rosser also would benefit from these improvements as they're able to see more action in the game. Tight end Chris Bullard has established himself as a premier target for Jelkic throughout the weeks that have passed. The bigger story, though, is halfback Billy Carter. Carter has established himself as the top rusher this season, leading in yards and leaving broken defenders in his wake. Carter has been the consistent driving force of Auburn, and that makes him a target.
Speaking of targets, Auburn's secondary doesn't get many, but that could change tonight. The talents of corners Jesus Kitchens and LaRoi Sanders are matched by a talented interior in safeties Ollie P. Peters, Eric LeClear, and Rian Chambers. This secondary not only covers the air, but they cover the ground game as well and do so in big ways. Runners often find the lights get a bit brighter whenever contact is made with this Auburn secondary and that's a big deal. The weakness on paper would tell you this defense suffers against the run, and while they're not the best rushing defense, they're also far from being the worst.
WHAT TO WATCH FOR
As I mentioned, Auburn's not the best run defense, but they're not the worst. If I'm Texas, though, my goal is to make them look like the worst run defense in the league. They've got the back in Geaux Bamba, who could make life difficult not only for this Auburn front seven, but for the secondary as well. That's the challenge that I want to make to the Auburn defense if I'm the Texas Longhorns. Come down here and stop the run.
PLAYER MATCHUP
FS Jimbo Smithers vs. HB Billy Carter
I've set the stage for Texas' offense and Auburn's defense above. Now we can get into the fun of Auburn's offense against Texas' defense. And two hearts are going right at each other. The heart of the Auburn offense is Billy Carter, the hard-nosed runner, the "bowling ball" of a back who has been nigh impossible to stop. The heart of the Texas defense, though, is Jimbo Smithers, the man who has made a name for himself by his signature, bell-ringing hits. His ability to jar the ball loose from runners has made Smithers into a household name. The joke is that Smithers can't catch. Good news for him, he doesn't need to today.
PREDICTION
I've gone through and set up what should be a hard-hitting, paint-swapping affair this afternoon. Here's what adds to it, this is a conference game between two teams who are vying for a spot and an opportunity to upset Clemson later this season and claim the SEC crown. That's where we're at. This game is major within the SEC, has major ramifications on who would be the champion of the SEC, and could have major implications down the line as far as a national champion is concerned. That's all on the line as Texas walks into Auburn. Longhorns and Tigers are going head-to-head in a monster of a game, and only one team can come out on top. Who I think that is? I couldn't tell you. I don't know. What's your call? Who wins today?