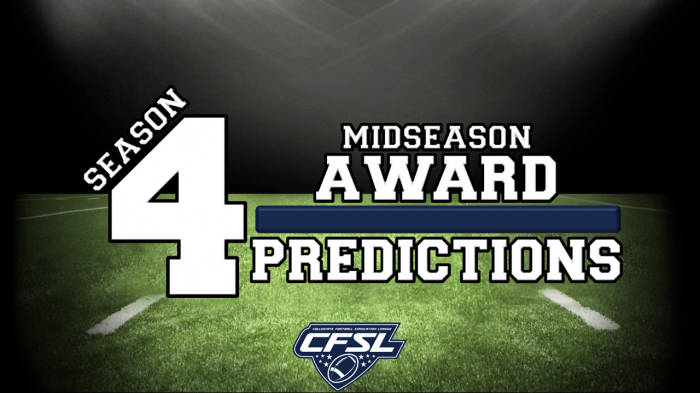 I know how much everyone loves my predictions, so here are your mid-season award predictions! We will go over OPOY, DPOY and All-American predictions.
*These are just predictions. 
OPOY
Texas QB Ray Tatum (240-314, 76% completion rate, 2696 yards, 25 TDs-6 INT, 171.0 QBR)

I get it, this seems biased but hear me out. Ray Tatum has completely rebounded from season three to season four. If you remember, season two Ray Tatum lit the world on fire on a really bad LSU team. Last year there were some struggles as Texas went to a run-first type of offense. This offseason the Longhorns went towards a pass-first attack and Ray Tatum has shined. Tatum leads the league in completion percentage, third in passing yards, first in touchdowns thrown and first in quarterback rating. If Tatum keeps this level up, the award is his to lose.

Tennessee QB Dewey Ainge (265-356, 74% completion rate, 2787 yards, 22TDs-4 INT, 158.3 QBR)

Ainge has put together a stellar season that includes two straight POTW awards and three nominations. Ainge has done this with arguably less talent around him than Tatum. If Ainge can put a couple of big games together and Tatum struggles, Tennessee might have an OPOY award winner.

Auburn RB Billy Carter (197 carries, 1247 yards, 178.1 YDS/G, 12 TD)

Billy Carter has averaged 178.1 yards per game, which is absolutely ridiculous. Ignoring what happened last week against Texas, Carter has more than 300 yards more than Ron Dayne Jr. who sits in second place. Carter can win this award if he can continue to propel Auburn's offense and puts up insane numbers.
DPOY
Texas FS Jimbo Smithers (89 tackles, 17 TFL, 1 sack, 4 PD, 2 FF)

Another Texas player makes the list but on the defensive side. Safety Jimbo Smithers has been a wrecking ball this season with his ability to close the gap against faster offensive players. Smithers is on pace for 140 tackles if he can average 13 tackles a game for the next four games.

Notre Dame DE Shane Razorback (28 tackles, 16 TFL, 9 sacks)

Hear me out, Mike Miller does have better numbers but he currently has played one more game than Razorback. Shane has more tackles and trails by a couple in the TFL and sack department. Can Shane continue his tear? If not then Mike Miller might take this spot.

Ohio State FS Kevin Brackett (80 tackles, 9 TFL, INT, 3 PD, FF)

The player known as "Land Shark" has gotten better as the season has progressed. His success has helped Ohio State to a four-game winning streak. If Brackett can keep up this steady pace, he can threaten Jimbo Smithers for the top spot.
All-American Predictions
QB
Texas QB Ray Tatum (74% completion rate, 2696 yards, 25TD-6INT)
Tennessee QB Dewey Ainge (71% completion rate, 2787 yards, 22TD-4INT)
HB
Auburn HB Billy Carter (197 carries, 1247 yards, 12 TD)
Washington HB Ron Dayne Jr. (178 carries, 921 yards, 12 TD)
TAMU HB Jimmy Tickle (145 carries, 909 yards, 11 TD)
WR
FSU WR Jared Tetonis (60 receptions, 859 yards, 8 TD)
Texas WR Vincent McCoy (54 receptions, 647 yards, 6 TD)
Texas WR Scooby Lewis (48 receptions, 559 yards, 6 TD)
Clemson WR Anthony Robertson III (49 receptions, 635 yards, 3 TD)
TE
Texas TE Jackson James (64 receptions, 727 yards, 7 TD)
Tennessee TE Glenn Stewart (65 receptions, 674 yards, 3 TD)
DL
Clemson DE Mike Miller (23 tackles, 18 TFL, 12 sacks)
Notre Dame DE Shane Razorback (28 tackles, 16 TFL, 9 sacks)
Clemson DT Tyson Ali (28 tackles, 14 TFL, 5 sacks)
LB
Texas MLB Justin Boudreaux (67 tackles, 15 TFL, 2 sacks, FF)
TCU MLB Aaron Davis (76 tackles, 5 TFL, 3 PD, 2 FF)
Michigan MLB Jake Lake (64 tackles, 9 TFL, sack, PD, FF, 2 FR)
DB
Texas FS Jimbo Smithers (89 tackles, 17 TFL, sack, 4 PD, 2 FF)
Ohio State FS Kevin Brackett (80 tackles, 9 TFL, INT, 3 PD, FF)
Oregon FS Jack Frost (64 tackles, 7 TFL, 2 INT, 6 PD, 2 FF)
Notre Dame CB Tyrell Solo (49 tackles, 6 TFL, 4 INT, PD, FF, TD)
Clemson SS Jordyn Hall (71 tackles, 6 TFL, INT, 6 PD, FF)