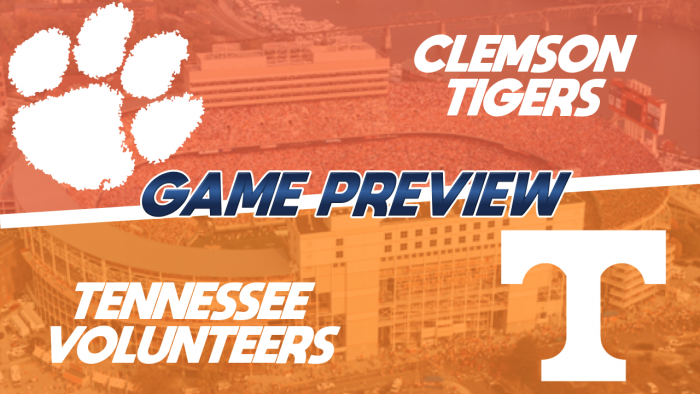 Here we are, the opening sequence for week eight and it's a big deal. Week eight is starting off in high gear with Tennessee and Clemson going head to head, with both teams having at least five wins this season. Likewise, both teams are undefeated in conference play. Like I said, we're kicking off the week in high gear with a matchup that could either alter the course of the SEC, or maintain its status quo. Let's do a deep dive on this game.
TENNESSEE
Look man, this Tennessee offense is severely underrated by the general public. Quarterback Dewey Ainge is a stud, and playing at his peak. He had four passing touchdowns last week with 375 yards through the air, and has shown some surprising proficiency as a runner. His rushing ability isn't better than halfback Donny Kazee's but it's a nice wrinkle that could open lanes for Kazee later, who only had 90 yards last week and didn't score. So, recently, the offense has run through Ainge, but he can't get all the credit. Wide receivers Nick Bagg, Cutter McGillicuddy, and Conrad Farrell have played major roles as has tight end Glenn Stewart. These four players each have made massive contributions from big plays to crucial conversions on third down. They're not to be taken lightly.
On that same note, we have to give props to the Volunteer defense. The game against TCU last week was pretty close and the Horned Frogs had a chance to put Tennessee into a really tough spot. Instead, the defense stood strong at the goal line, keeping the Horned Frog offense out. Linebacker Thomas O'Donnell stepped up in a big way, recording eight tackles on the evening. Factor in safety Buster Bates, who recorded six tackles and a tackle for a loss and this defense showed up impressively. They'll need to take it to the next level tonight.
CLEMSON
The Tigers won last week, but you could argue it was in spite of quarterback DJ Moss. Moss gave up two interceptions and didn't score at all, either via the air or ground. He had a lot off passes, completing 40 of 54 and had 325 passing yards, but that was the extent of his positive exploits in that department. Instead, halfback Mike Chadwick scored on four separate occasions, all on the ground. Yet, somehow, Chadwick fell short of 100 rushing yards despite his 22 carries. There was good news to be had though. Not only did Clemson win, but wide receiver Anthony Robertson III had seven catches for 97 yards. Don't forget tight end Ricky Cortez, who's slowly finding his role in this scheme among wide receivers Jay Moe and Keith Blazer who each have had major contributions to the Clemson passing attack.
Defensively, well, it was a great night for safety Jordyn Hall, who recorded 13 tackles, a tackle for a loss and an interception. It's always a good night when you can hold an explosive offense to around 20 points. It also helps when your big defensive tackle creates three tackles for a loss and a sack, which is what Tyson Ali did on a night where he recorded four tackles. While the performances outside those two were fairly quiet, this defense is still strong and exceptionally formidable. Something that we'll see once again tonight.
WHAT TO WATCH FOR
If Tennessee wants to go airborne, they have to be aware of where Jordyn Hall is on the field. Hall has stepped up in recent weeks for this Clemson defense and that is something that should scare opposing offenses. Factor in Hall's rush defense, and well, Hall has proven himself to be a force all his own on a defense where one would expect linebacker Kobe King to fill that role.
PLAYER MATCHUP
QB Dewey Ainge vs. QB DJ Moss
Two quarterbacks take the stage, each of whom have earned tremendous respect. On the one hand is DJ Moss, the Clemson quarterback who has proven he can do it all and is undeterred by his own miscues. On the other, there's Dewey Ainge, Tennessee's underrated gem. Ainge has shown to be calculated and his decisions, his throws precise and exceptional, coupled with the talent around him. These two titans take the field in an incredible clash.
PREDICTION
Both teams have had their fair share of ups and downs this season. Tennessee lost to Penn State earlier this season and it shocked many, but Clemson has had several occasions where they've looked shaky too. Falling behind 21 points against Oregon and they didn't look great against a Florida State team last week. Yet, here we are, with the Volunteers looking to shake things up in the SEC and Clemson trying to hold onto a one game lead in the conference. Honestly, I'll take Ainge's play over Moss. Moss has looked shaky and Ainge has gotten hot lately. There is a caveat, though, and his name is Tyson Ali. If Ali makes Ainge uncomfortable, which I expect will happen, I'll have to give Clemson the win.
Tennessee 31, Clemson 38