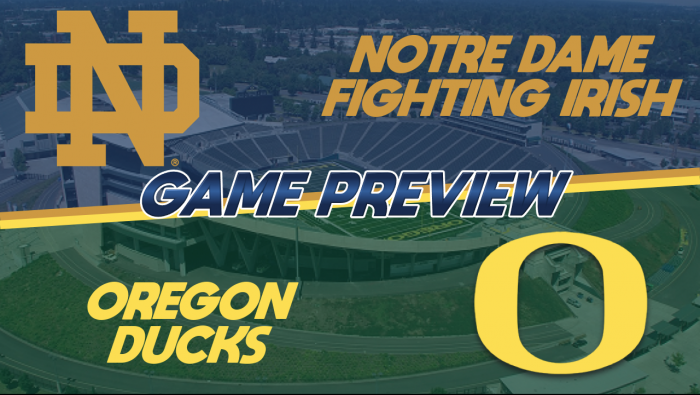 Oregon, the loser of two straight heart-breakers, turns their attention to Notre Dame in our final game of the night. Meanwhile Notre Dame come into this game with the chance to put some distance between themselves and Oregon in the Big 10.
NOTRE DAME
The fighting Irish are in a real good spot this week. Their offense is coming off another strong performance. Jose Bueno continues to cement himself as one of the better quarterbacks in college this season. His four touchdowns passes pushed his total for the season to ten. He's also only thrown two interceptions up to this point in the season. Bojangles Jackson also had a strong game racking up 107 receiving yards with six catches and a touchdown.
The defense looked much better against Washington than it did against OSU. They held Washington to 380 yards. Third down defense was huge in this game as the Huskies only converted 36% of their third down plays. Michael Pluth had himself a day, he finished with eleven tackles, the most by any defensive player on both teams. Jackson Stone also had a strong game finishing with seven tackles, an interception and a touchdown.
OREGON
Losers of two straight, the Ducks offense has not been the issue. This is the second week in a row they've put up 40 or more points. It was also the second week in a row that Devonta Cribbs tallied three passing touchdowns and eclipsed 200+ passing yards. Speedy Love was held to just around 50 yards, despite that, the Ducks still managed to rush for 91 yards. We'll see if tonight their defense can keep the opposing team out of the endzone.
The Ducks defense was left scratching their heads last week. They managed to cause three turnovers on Javon Mack and only held him to 274 yards passing. The problem for the Ducks however was their red zone defense. The Wolverines walked had six chances in the red zone to score and came away with points in all six tries. Israel Cassius and Jack Frost did everything they could in the secondary to keep the Ducks in the game. They'll look to keep their stellar form going tonight. Cassius had two interceptions and Frost finished with one. They combined for 25 tackles, three interceptions, one deflection and a touchdown.
WHAT TO WATCH FOR
The hidden tale of the tape in this game may be in the time of possession. Notre Dame scored 35 points on 53 plays last week while holding the ball for 20+ minutes. Oregon scored 40 points in around 13 minutes. What this means is their defense is having to stay on the field for an extended period of time which could come back to bite them towards the end of the game if Notre Dame is ahead by a touchdown or two.
KEY MATCHUP
Oregon vs the Clock
A weird match up here but I believe Oregon's biggest strength may ultimately be their biggest weaknesses. Their ability to score quickly puts a lot of pressure on their defense. If Notre Dame can methodically march up the field taking time off the clock and finishing drives with points like they did last week, the Ducks may be in big trouble.
FINAL SCORE
Notre Dame 38, Oregon 44