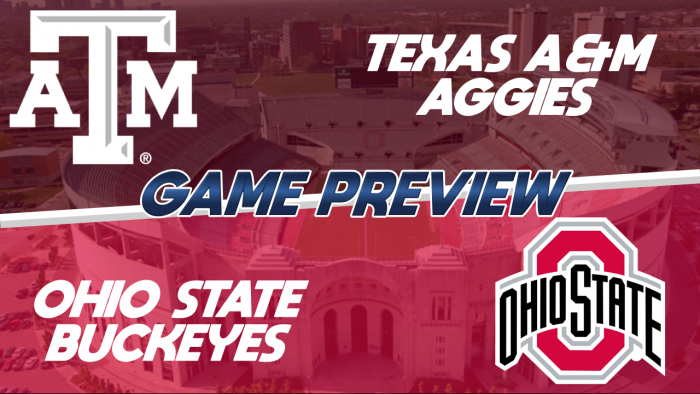 Ohio State comes into the week hot, very hot. After squeaking by an better looking Penn State, the Buckeyes look to make a final push to the Orange Bowl. Texas A&M, however, has been on a tumbling spiral for many weeks now. The Aggies will need to right themselves soon or they will be the same as last season, a bottom finisher with no bowl.

Ohio State
Ohio State has leaned on the running game all season long, and I do not expect that to change. Freshman quarterback Xavier Garcia-Allen has been running all over the field and is nearly unstoppable. Frost Carlson has shown many signs of improvement from his freshman season. He has 756 yards and 10 touchdowns, to complement XGA's 744 yards and five touchdowns. Defensively, Ohio State has done enough to keep them in games and win those games. One of the most exciting player to watch is five-star safety, Kevin Brackett. He has 80 tackles, good for second in the league. If he continues this pace, he'll surely be in the running for DPOY.

Texas A&M
The Aggies have not been playing their best ball. Quarterback Walker Mills has not shown his full potential passing the ball. He has only two touchdowns through seven games of football. One standout on this offense is Jimmy Tickle. All season long, Tickle has been balling. He has 909 yards and 11 touchdowns. Tickle is the key to this offense, with his success comes to the team's success. On the other side of the ball, Texas A&M is again lagging behind.THey allow near 500 yards a game, putting the, behind almost always. They do play the pass well, although this could be the result of teams being ahead and running the clock out. Regardless, they will need to play better if the Aggies want to win games.

Key Matchup
Jimmy Tickle vs Kevin Brackett
Tickle is one of the most electric runners in the game and is not easily stopped. On the other side, Brackett plays downhill football and is rarely blocked on his way to the runner due to his sheer athleticism.

Prediction
While the Aggies will put up a fight, the talent on OSU will overcome them, Buckeyes win:

Ohio State – 38

Texas A&M – 21