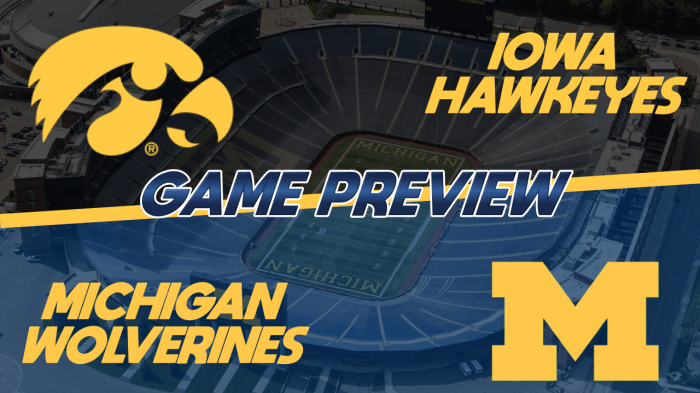 With the Notre Dame loss from last night, this game is incredibly important for the Wolverines. Michigan has an opportunity to get the leg up on overall record and at least pull even with the Fighting Irish and the Buckeyes in conference record. Iowa could ruin that and leave the tie between Ohio State and Notre Dame. The Hawkeyes indeed have the capacity and the ability to defeat Michigan, who looked vulnerable last week until they got some help.
MICHIGAN
Despite the efficiencies of quarterback Javon Mack last week, in the sense that he completed 40 of 49 passes, he turned the ball over three different times. Halfback EJ Mack didn't reach 100 yards last week, but continues to showcase his ability to compliment his quarterback. If the Macks can get going in the ground game, it would open up passing options for Javon who as quite the assortment of receiver options. Bobby Jackson, Nick King, and Darwyn Garcia are the star receiver targets and each of them can create game-altering plays if Javon has time to deliver the ball to them.
This Michigan defense did the job that is necessary for the Wolverines. Despite falling behind they were able to get the stops needed to force overtime. Then a scoop and score, which was made possible by safety Elliot Wells, and served to be the catalyst for the Michigan win. It also helped to have linebacker Jake Lake tally 10 tackles, two of which went for a loss. As this Wolverine defense continues to progress and improve, they'll continue to remain atop the Big Ten.
IOWA
As the Hawkeyes continue to make noise, there's a burning question that seems to be on the minds of many. Where is halfback Avery Jordan? As quarterback Joe Kane tries to get back to his performance against Florida State, he would benefit from the resurgence of Jordan. Even so, Kane did have a nice game last week with three passing touchdowns to offset two interceptions and had over 100 rushing yards. Wide receivers Greg Gaines and Levonte Thompson combined for the touchdown receptions, where Gaines caught two and Thompson had the third. Receiver Darren Pegues and tight end Franklin Richards continue to come up with some crucial catches as well, trends the Hawkeyes hope continue.
Meanwhile, the Iowa defense has been getting some kinks worked out of their system. Linebacker Marcin Oleśniewicz recorded nine tackles last week and corner Braxton Audman Jr. had a tackle for a loss. Audman also had three tackles and safety Bo Bodine delivered six tackles. Bodine had a pass breakup also. Unfortunately, that's about the extent of it for Iowa. No turnovers, nobody else had a tackle for a loss outside of Audman, and no one else recorded a pass breakup. Somebody needs to wake these boys up and fast.
WHAT TO WATCH FOR
Iowa and Michigan both need to get their respective backfields off to a strong start in this game. For Iowa, that means getting Avery Jordan hot early on. Which means for Michigan, they need to get EJ going. These offenses are eerily similar in roster make-up and both teams have to express the same success in their offensive backfields, which means rushing success.
PLAYER MATCHUP
LB Jake Lake vs. HB Avery Jordan
This matchup is intriguing if only for the sake of an explosive back like Jordan clashing with the linebacker Jake Lake who is continuing to improve in the Wolverine's scheme. The problem is, this matchup is one massive caveat. If the Hawkeyes can't get the resurgence from Jordan, then this matchup loses interest and would instead see focus shift to quarterback Joe Kane.
PREDICTION
This game should be close, as both teams were on opposite sides of a three point margin last week. Michigan won, in overtime no less, while Iowa fell short. I envision another three point margin tonight, with the difference being found in who the victor is. Michigan is dynamic, explosive, and dangerous. But this fact remains: Iowa is completely capable of defeating the Wolverines tonight. For that to happen, the defense has to play better and Jordan has to show up in a big way tonight. I anticipate this will be the case and that the Hawkeyes claim victory.
Michigan 31, Iowa 34