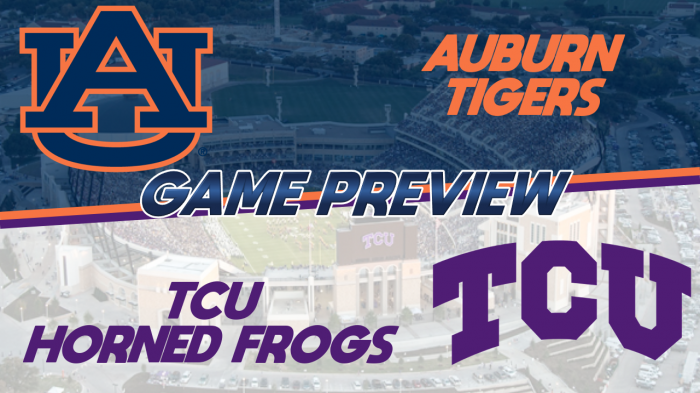 Auburn is a team that coming into this season had the highest of expectations, but has had a few key losses to top teams that resulted in them being in a tough spot. After getting decimated by Washington early, Auburn fell again to Texas in a close 31-24 battle. After their first few games in season three, TCU seemed to be a huge threat in the CFSL. Ever since however, they have been on a tumbling spiral. It just never seems to go their way. But this week is a chance for them to upset one of the best teams in the CFSL.

Auburn
Auburn is a one trick horse on offense. Billy Carter, who has blown everyone out of the water running the ball, is the biggest threat Auburn utilizes. He has 1247 yards and twelve touchdowns. His 1247 yards are by far at the top, beating the #2 Jimmy Tickle by over 300 yards. One incredible fact about this Auburn offense is that not a single Auburn wide receiver has caught a touchdown in seven games this season. This is mostly due to the playbook and Carter's brilliance.

Auburn's defense has received unanimous praise from almost everyone. They have perhaps the best secondary in the CFSL. Safety Ollie P. Peter has been all over the field making tackles and interceptions all season. He is assisted by Jesus Kitchens. Kitchens is a pure playmaker. He has two interceptions and a kick return touchdown. Aside from the Washington game, this defense has played great. If they keep that up, they'll be in a spot to make a run for a title.
TCU
TCU is the opposite of Auburn offensively. Dalton Andrews is having a killer season. He came into the week with the league lead in passing yards with 2729 yards. His receivers are also playing extremely well. His targets all have over 400 yards except for Adok and Horace Lynch, but those two are not far off. Koda Adok has not been playing his best ball, but that is due to his team passing so much.

Defensively TCU has faced many struggles. While they have one of the best playmakers in Aaron Davis, no one else has really stepped up to support him. While we have seen flashes from Xavier Colon and Vonn Harris, it hasn't been enough to propel them to victory.

Key Matchup
Billy Carter vs Aaron Davis

These two are some of the best at their respective positions. If Carter gets going again, TCU will never be in the game. Davis needs to create stops in order for TCU to have a chance.

Prediction
With all things being considered, Auburn will walk away from this one with relative ease:

Auburn – 41

TCU – 27