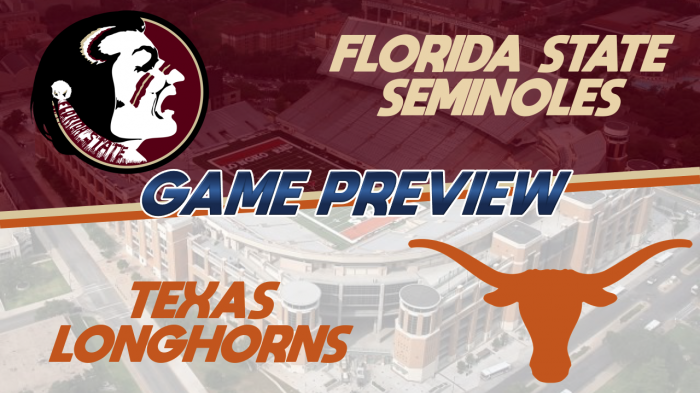 This meeting is eerily similar to Season 2's matchup in Tallahassee where Texas scraped out a close 28-27 win. This time, FSU has to travel west to Austin for a matchup of the haves and have nots. Texas seems to be clicking on their current three game win streak led by signal caller Ray 'Voodoo' Tatum and defensive stalwart Jimbo Smithers. However, FSU is a feisty opponent with their own stars to boast. Both Albert Saenz and Jared Tetonis are putting up some great receiving numbers and establishing themselves near the top of the receiving leaderboards. While they may not have the overall talent of this season's Texas squad, this game is a must watch purely for the upset factor. After all, it almost happened only a short time ago.
Florida State
Offense
If you are a fan of high-flying aerial attacks, look no further than the Florida State offense. James Kovach isn't exactly having the season he was last year, something a little surprising considering his plethora of top receivers on offense. Still, 2711 passing yards at this point in the season is no joke. If he can get some support from HB Adam Croft in the form of screens and a deceptively good power run game, things could get moving quick for this offense. As always, the trio of five star receivers are coming ready to play hard. Pipino, Saenz, Tetonis, and even Perkins all have top tier catching ability. Tetonis is the real standout so far due to his post catch ability. Add in TE Chris Diaz and you have a powerful passing attack ready to go from the first snap.
Defense
As a big fan of hard-nosed defense, FSU can be a little tough to stomach sometimes. 45.4 points against per game isn't exactly what you are looking for as a defensive coordinator. Just like last year, the brunt of the defensive work is doled out to Nathan Tetonis in the secondary. His 55 tackles are coming short of last years big 120 total, but his 4 TFLs are showing that he still can make a big impact. In addition, the D-Line has some pressure forcing attackers in Marlon Davis and Indiana Fant. Both can come off the edge in a hurry and pull down the QB. In addition, linebackers in Vinny Maddox and George Tetonis serve as solid run stoppers in the middle. Add in Dale Higgenbottom and it's surprising they struggle so much on defense. Let's see if they can step up as a unit today.
Texas
Offense
Everyone in the CFSL seems to think of FSU as the premier passing attack in the league, but it turns out that Texas is only 2 yards shy of FSU's per game total this year. Ray Tatum has stepped up and is putting up OPOY numbers right now. His 171-passer rating is out of this world good and almost 12 points better than the next man up. Toss in his receivers Vincent McCoy, Scooby Lewis, and Dedric Scaliso and you have an unstoppable attack. Oh, and don't forget that Bamba still knows how to run the rock. Let's just say that if things get going early on, the party will be at Jackson James's ranch tonight!
Defense
For as good as this Texas offense has been, the defense has played above and beyond as well. 21.4 points against per game is a mark that must be close to the lowest we have seen. Obviously Jimbo Smithers is the man we all look to as the team's star but let's not forget guys about the outside like Jalen Davis and Terrence Top. Without those two locking receivers down, it would be hard to get the insane tackle totals that Jimbo does. As for the rest of the defense, Zachary White just got seven big tackles vs Penn State and Justin Boudreaux is coming off an insane week of his own too. With this team feeling good and riding a nice little hot streak, watch out for some crazy big hits and a turnover or two.
Key Matchup
The Tetonis Trio vs All Comers
When I think of FSU, I immediately think of the dominate trio of players who all happen to be named Tetonis. Need a catch in a clutch situation? Dial up Jared. Need a big hit in the middle to knock out an opposing running back? That's George's time to shine. Need a momentum swinging turnover late in the game? Nathan is way ahead of you and already in the opponents end zone. It's a tall task to keep all three of these guys in check, and only one needs to break out to make things work for FSU.
Prediction
While I like the individual pieces of Florida State, the collective product has been lackluster so far. Their one-dimensional offense has been a bit of a curse for them so far as the run game can never really eat clock or wear down the defense enough to make an impact. In addition, Texas has a secondary that can absolutely dominate you for four quarters. Combine this with an insane offense and I see it being a long game tonight.
Florida State 17, Texas 45