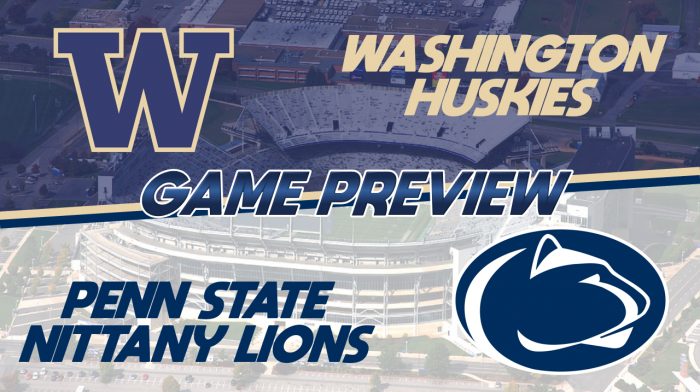 So, here we go, last game of week eight, and it's a Big Ten showdown. The Huskies are hoping that they can make a push for the conference, but Penn State wants to make a push for a big-time bowl game. This game, it's one people seem to be sleeping on and they shouldn't be. This one is going to be a good one, and may surprise some folks.
WASHINGTON
Quarterback Doug Ohle has had a bit of a rough season. Especially last week, where he tossed three interceptions and it wasn't great. Halfback Ron Dayne Jr. hasn't had the best of seasons either, though he is towards the top in rushing yards once a gain, something he seems to do consistently well. The bright side is the upside of this offense. Wide receivers Lord Helix, Matty Rose, and Jacob Iverson often make big plays and tight end Derrick Gray is still a major threat. While the offense hasn't looked dominant, they have the potential.
Defensively, hey, corner Winston Schmidt recorded 10 tackles, two of which went for a loss last week. Normally those are numbers that linebackers Erik Langston or Dejounte Wilson would record, but not last week. The two of them combined for five tackles, three for a loss. Wilson did have a sack though. Normally, this defense plays incredibly well, but tonight it's against the run where they need to make sure they play well.
PENN STATE
The Nittany Lions are entirely in a position where, if they go on a winning spree, they can find themselves in contention for a Rose Bowl. No guarantee they'd get in, but the opportunity is there with help. Quarterback Aidric Berry has been on a touchdown spree this season, the scheme fitting his talents immensely. It helps, too, when halfback Robert Davis is his own force to be reckoned with and has to be dealt with. Factor in wide receiver Ronald Fields and tight end Robert Gomez and there's opportunity for some big plays. Fields especially, who made a name for himself in week one especially, but has progressively gone quiet. It would be great to see him surge once again tonight.
As a defense, linebacker Jack Tyler showed up big time a week ago. 12 tackles with a tackle for a loss is pretty awesome, and was instrumental in helping the Nittany Lions to stay close. Then, the defensive line of Malcolm Kennedy, DeAngelo Montgomery, Barry Morgan, and Drew Ekstrum combined for 10 tackles, a tackle for a loss and a sack and that was nice to see as well. Bottom line, this defense is doing well for the personnel they have.
WHAT TO WATCH FOR
We all know the Nittany Lions are going to focus on the running game with Berry and Davis, so the question is can Washington stop it? If Langston and Wilson can make big plays then it help to slow everything down for, but there's no guarantee that can be done. That conflict is going to be something to watch tonight.
PLAYER MATCHUP
HB Ron Dayne Jr. vs. LB Jack Tyler
While I've addressed the matchup for the Penn State running game and Washington's defense, there's something to consider for the reverse. Penn State has Jack Tyler patrolling the middle, and he's gone up against some really outstanding running backs. He's about to be heavily tested once again going up against Dayne. Not sure Tyler's ready for that, but we'll see.
PREDICTION
This game should be really good for a number of reasons. Berry versus Ohle, Dayne versus Tyler, Davis versus Langston. On top of bowl game berths. On paper, it's easy to point to Washington and declare them the ones who should win, and they should. But, we've seen Penn State find a way to pull off the upset. Now, they could do that again here. I don't think that happens, but I'm not going to slam the door shut on that possibility. That said, give me Washington by three.
Washington 27, Penn State 24