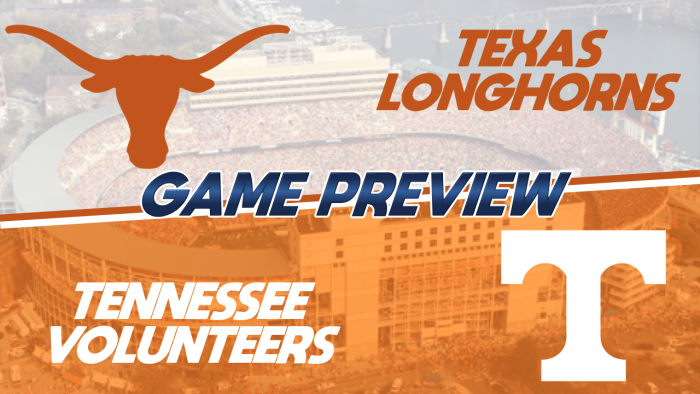 Week nine is starting off with a storm. The Longhorns and Volunteers are battling out, a dispute we've seen before and once again the entire shape of the SEC hinders on the outcome of this game. If Texas can get a win, then their matchup with Clemson is almost like a playoff game. It still matters with a loss, but the weight won't be the same. Tennessee, though, is in position to change the course of the SEC and potentially be in position to return to the Orange Bowl if they win and get help. So let's dive into this, shall we?
TEXAS
The Longhorns enter into this game, feeling good. Second place in the SEC, with a record setting quarterback in Ray Tatum. Wide receivers Vincent McCoy, Scooby Lewis, and Dedric Scaliso are massive weapons who can score at any given moment. And yet, it's tight end Jackson James who, for the better part of this season, has led in catches, yards, and scores. Then, factor in halfback Geaux Bamba. He's been quiet this season, but the man is a big play threat who can wreck defenses if allowed.
Now, let's discuss this defense. Safety Jimbo Smithers is a household name who dishes out contact at an alarming rate. He's the tackle leader for a reason. He's aggressive, attacks the ball-carrier or receiver. And yet, because of his highlight reel level of play, we forget linebacker Justin Boudreaux. Boudreaux is a key piece of this defense and makes big time plays. Linebacker Howard Cook and safety Zachary White, though, aren't respected as much as they should. They're overlooked for Smithers and Boudreaux, and that's a fatal mistake.
TENNESSEE
Third place Volunteers, that's where they are in the SEC. But, what makes this incredible, is they only have one conference loss. Part of that reason is because quarterback Dewey Ainge is having a career season, in part because of wide receiver Nick Bagg who has been phenomenal. Receivers Cutter McGillicuddy and Conrad Farrell make plays as well, but Bagg is the real threat as is tight end Glenn Stewart. Halfback Donny Kazee has a big game here and there, but the bigger story has been Ainge for this offense.
Tennessee's defense, however, has overcome some changes. But the biggest change has been linebacker Thomas O'Donnell who has stepped up big time. O'Donnell, over the past couple of weeks, has been the premier linebacker, make plays left and right. O'Donnell gets a lot of help, though, from safety Buster Bates who has a tendency to serve Crunch at the line of scrimmage. That's the sound you often hear when Bates makes contact, which is vastly different than his "Bam Bam" nickname. Point is, this defense is playing well despite how they look on paper.
EXPECTATION
Fireworks. Lots of fireworks. These two offenses are playing explosively and at a high level. I don't know if the defenses will step up or get chewed up. But there's going to be fireworks. Either the defenses will lay out the opposition, or the offenses will burn their opposition. Ainge and Tatum going back and forth is the one of the more exciting prospects, and it makes me want to see that happen. A shootout to see who can make Clemson sweat more.
PLAYER MATCHUP
FS Jimbo Smithers vs. SS Buster Bates
Not often you see two defensive players highlighted here, but this is where we're at. Bates and Smithers are dynamic, and the big-hitting enforcers of their respective defenses. The question is, who plays a bigger role tonight? Smithers has had some big games, namely his 19 tackles last week, but Bates has forced offenses into tight spots too. So who has the bigger impact, who makes the more crucial play tonight? Let's find out.
PREDICTION
There's a scenario here where Tennessee finds a way to win. Ainge and the defense plays lights out while Tatum makes a couple mistakes. It would be exciting to see the upset. It's also not likely. Here's the likely scenario. The two offenses, led by Ainge and Tatum, get into a shootout. Smithers, in a game where the win sets up a playoff atmosphere against Clemson, finally hauls in an interception and totally changes the game in Texas' favor. Longhorns win setting up a matchup with Clemson to, theoretically, determine who goes to the Orange Bowl. Longhorns win on the road in a high scoring affair.
Texas 52, Tennessee 45