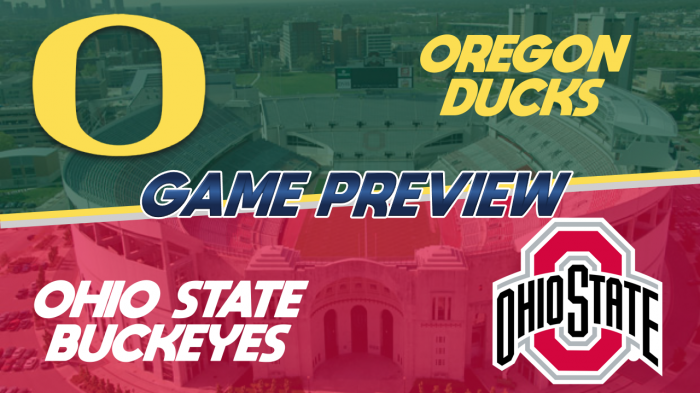 In a matchup of two-one loss Big 10 conference teams, the Ducks of Oregon (5-3, 2-1) head to Columbus, Ohio to take on the Buckeyes (5-3, 2-1). Both of these two teams are battling to remain on pace with Michigan. Ohio State enters this game red-hot on a five-game winning streak. Oregon comes into this game after a surprising 2OT win over Notre Dame. Which one of these teams will take the biggest step towards a Big 10 title? Let's find out.
PREVIOUS MATCHUP
Season 3 – Oregon 45, Ohio State 35
Season 2 – Ohio State 48, Oregon 25
OREGON
After two close losses to Auburn and Michigan, Oregon rebounded in a big way with a victory over Notre Dame. It did not come easy, with two overtimes deciding the outcome. HB Speedy Love put the Duck offense on his back with 24 carries for 158 yards and two touchdowns. Defensively it was safety Jack Frost with 18 tackles, TFL, sack, and INT that propelled their defense.
The Duck offense is led by quarterback Devonta Cribbs. Cribbs, a sophomore, has completed 69.5% of his passes for 2324 yards and 15 touchdowns. His backfield mate, Speedy Love, has garnered 929 yards on 155 carries and nine touchdowns. Dijon Swann provides Cribbs with a big play target, while Coty Betts and King Twixx provide Cribbs with a security blanket. This offense is not bad as they rank in the top-five in first downs and total offense per game. The one bad thing about the Duck offense is their 3rd down conversion rate, currently at last in the league at 38%.
On defense, the Ducks are led by senior Jack Frost. Frost currently holds 82 tackles on the season and three interceptions. Joining him in the secondary are Israel Cassius, Thor Odinson and Locky Downington. This defense is third in takeaways with 13 on the year. The defense will be tested tonight as Ohio State presents a rushing attack that goes against the Ducks strength.
OHIO STATE
Speaking of Ohio State, how hot is this team? After a three-game losing streak to start the season, the Buckeyes have been on a tear, winning five in a row. Last week they took care of business against TAMU, winning 35-18. Xavier Garcia-Allen was the star again with 212 passing yards and 122 rushing yards. He contributed three scores and his read-option mate, Frost Carlson, scored two of his own. Kevin "Land Shark" paced the defense with nine tackles and one tackle for loss.
Offensively this team lives and dies by the read-option. XGA and Carlson lead the Buckeyes to the second-best rushing attack in the CFSL at 227.4 yards per game. While they rush really well, they don't do much better anywhere else. Points-per-game, 1st downs per game and passing yards per game all are near the bottom of the league. Against a tough Duck secondary, Royce Mills will need to step up if the Ducks crash on the run.
The defense of Ohio State has played extremely well during this winning stretch. Kevin Brackett continues to rack up tackles while Juan Cantu and Tom Pence lock down opposing wideouts. The big question tonight will be if Ohio State can force turnovers against the Ducks. The Buckeyes rank 11th in turnovers this season as a defense while Oregon has committed the 3rd worst margin.
MATCHUP TO WATCH
Oregon WR Dijon Swann vs Ohio State CB Juan Cantu
The "Mustard Bird" came into this league as the top-ranked wideout in this class but has struggled this season. Swann only has 42 catches for 574 yards and five touchdowns. The key tonight will be if he can provide a deep threat for his quarterback, Devonta Cribbs. On the other side of the ball, corner Juan Cantu will need to secure the deep threat which will allow a longer time for Brackett to make his plays.
PREDICTION
Oregon has been decimated on the front line as they only have DT Ben Marquez in their front seven. If Ohio State can exploit this Oregon defense, we could be in for a long night from the read-option team known as Ohio State.
But not so fast. If Oregon can force Ohio State to pass, this secondary can step up and make plays against a lackluster passing attack from the Buckeyes. I think this game will be closer than many will expect but Ohio State comes out on top, 48-35.