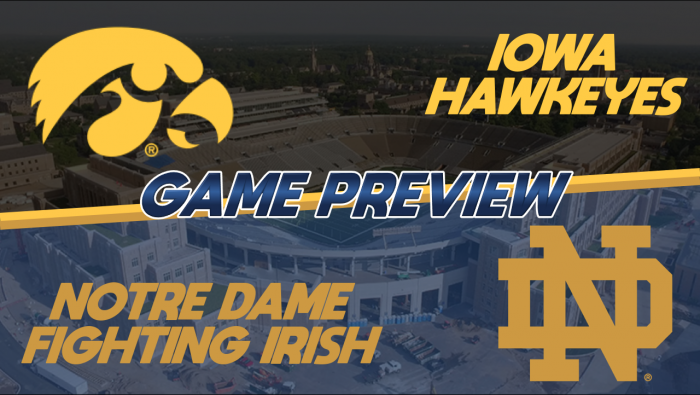 Ah, another major Big Ten matchup starts this Tuesday night off. Look, the Hawkeyes are hoping to reach .500 in conference play. To reach that tonight, they would have to defeat a Fighting Irish team that's trying to keep up with Michigan. A loss for the Fighting Irish would all but annihilate those chances. This is where we're at, and this is what's at stake, including Iowa's opportunity to sneak past Penn State in the conference. That's where things stand right now. Now, let's break this matchup down.
IOWA
As Iowa keeps trying to get some things figured out as an offense, and as a team, there are some things that don't need figuring out. Halfback Avery Jordan is a critical part of the offense, and his success often leads to the bolstered success of the rest of the offense. Wide receivers Darren Pegues and Lavonte Thompson have made plays, much like tight end Franklin Richards. The question mark remains at quarterback with Joe Kane. We've seen moments where Kane has played brilliantly, and others where he could grow and improve. The outcome of this game will be dictated by which Kane shows up.
That leaves us with the defense, which has linebacker Jerry James leading the charge, albeit quietly. That said defensive end Mohammad Dmour has been anything but quiet for the Hawkeyes. Dmour has been persistent, forcing pressure and getting into the backfield in quite frequently. Safety Bo Bodine has made his presence known on occasion, but not quite to the level of some of the premier safeties of the league. That said, Bodine is a key piece of this defense, one the Hawkeyes hope to hear called with regularity tonight.
NOTRE DAME
The Fighting Irish stride into this game looking to keep pace with the Wolverines. Oh, and they're angry off the way they lost last week. A missed field goal in double overtime is a heartbreaking way to lose. Quarterback Jose Bueno has been progressing well, and the same can be said for his chemistry with receiver Skyler Schnee. Tight end Alistair Kye may not be getting the love he deserves, but I assure you, he's key to the offense as well. If Bueno can work Kye in, similar to how Schnee has been worked into the offense, then the Fighting Irish are in good shape. Especially when one considers halfback Joe Pantoja on the roster. Pantoja isn't having the season we expected, but he's still a force to be contained.
Now, let's talk about this Notre Dame defense. The Fighting Irish love corner Tyrell Solo to pieces, and the man has been stellar as an Irishman. Part of the reason for that is the pressure generated by defensive end Shane Razorback who knows how to make quarterbacks uncomfortable. It's not just Solo who's enjoying the fierce defensive end. Corner Jackson Stone and safety LaQuarius Davis both are on a run of nice games, which bodes well for Notre Dame's Big Ten push.
WHAT TO WATCH FOR
Notre Dame is angry and unhappy with last week's results, which makes me feel sorry for Iowa. Notre Dame's Jose Bueno will likely come out rolling on all cylinders, hopefully getting the rest of this offense into high gear. If Pantoja and Kye can have big games, Iowa's in trouble, even if Avery Jordan decides to try to break the will of the Irish defense.
PLAYER MATCHUP
QB Joe Kane vs. Notre Dame Secondary
Cheap ploy? Maybe, but there's truth to this matchup. Iowa can't afford mistakes, and Kane really can't afford to play conservatively. Against this secondary, though, that could be what happens to Kane. Or Joe Kane could force the Notre Dame secondary to stop him from running the ball. That would be a sight to see.
PREDICTION
I have to be honest with you here. This is Notre Dame's game to lose, in my mind at least. I know Iowa can pull off the win, but with the context of this game for Notre Dame, and what it means to them, then the Hawkeyes are endangered. Bueno and Schnee have got their chemistry going, and if Kye and Pantoja can get hot, I'm not sure Kane and Jordan can overcome that. That's even with Lavonte Thompson, Franklin Richards, and Darren Pegues playing at a high level. This Notre Dame defense is tough, and the offense is mad. Notre Dame wins.
Iowa 28, Notre Dame 35