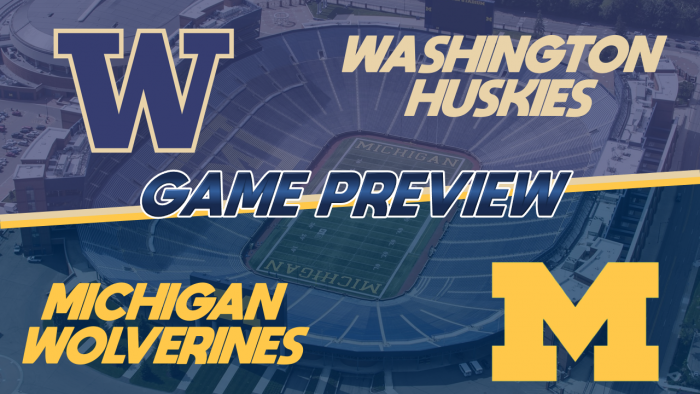 Week nine continues with another important Big 10 matchup. The Washington Huskies (4-4, 2-2) travels to Ann Arbor to take on the Wolverines (6-2, 2-1). The Huskies enter this matchup in desperate need of a win in order to keep their hopes alive against the toughest team at home.
PREVIOUS MATCHUPS:
Season 3: Michigan 59, Washington 38
WASHINGTON
The Huskies enter this matchup on the heels of a 45-26 victory over Penn State last week. That game was thoroughly dominated by HB Ron Dayne Jr., as he ran over Penn States defense with 32 carries and 186 rushing yards. The most impressive stat was his three touchdowns, which gives him 15 on the season. His backfield mate, Doug Ohle, continues to have a quiet, but stellar, season. Ohle has passed for just over two-thousand yards and 23 total touchdowns. Providing him with a safety net is tight end Derrick Gray. Lord Helix and Matty Rose give Ohle deep options down the field.
Defensively, the Huskie attack is led by their secondary of Austin Johnson, Freddy Petty, Bradley Knox, and Kalu James. This secondary has locked down receivers this year and is second in the league in defensive passing yards allowed at 224.8 per game. Leading the charge up front is defensive end Richard Bradley, Erik Langston, and DeJounte Wilson.
MICHIGAN
The Wolverines enter tonight after they throttled Iowa 49-27. Javon Mack has stepped it up in recent weeks, securing seven total touchdowns last week and almost 500 total yards. Mack has now accounted for a total of 24 total touchdowns, 12 rushing and 12 passing. His brother EJ Mack has had a quiet freshman season, rushing 117 times for 693 yards. Bobby Jackson, Nick King, and Darwyn Garcia give Javon Mack targets on out the outside if he decides to throw it.
On the defensive side of the ball, Jake Lake has done a solid job taking over for the former linebacker Nate Jones. Jesse Horrigan teams up with Lake at the linebacker position. These two linebackers have accounted for 121 combined tackles. The secondary is headlined by Joshua Priest Jr., along with Elliot Wells and Blue McFadden. We all know Priest Jr. from his insane play a couple of weeks ago but has been pretty quiet since.
WHAT TO WATCH FOR
Michigan is a team that does not lose at home often. Washington enters this game in a must-win situation, otherwise, they are more than likely out of the Big 10 race. Can Washington win in a tough environment with their season on the line?
MATCHUP TO WATCH
Michigan QB Javon Mack vs Washington Secondary
Michigan enters the game with the 6th best passing attack in the CFSL. On the other side of the ball, the Huskies boast the second-best pass defense. Is this the game that Mack flips the script and runs the ball? Mack has struggled with turnovers this year with 12 interceptions. If Michigan continues to pass, look for the Huskie secondary to force Mack into some mistakes.
PREDICTION
Washington has had an up and down season this year. They have been known to win some big games and this is one of them. The Huskies are underdogs this year but you should never count them out. This game will be tough for them but I think they can be one of the few teams to beat Michigan at The Big House. Both these teams trade shots early and often and look for this game to come down to the team with the ball last. Washington wins on a field goal, 37-34.