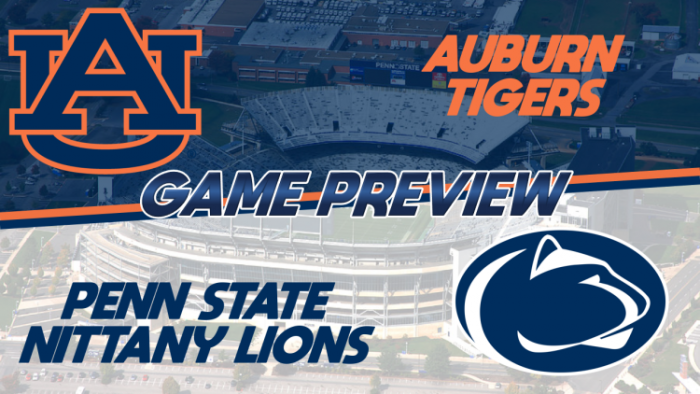 As week nine ends, action is still on the horizon in a late season matchup between Auburn and Penn State. While it may be a non-conference matchup with minimal bowl implications, the storylines and talent on both sides make it a game worth tuning into. Auburn is coming off a close game against TCU that was unexpected, but entertaining. Penn State is on a two-game losing streak that needs to end soon to salvage the confidence gamed from the Michigan game. Auburn should be a decent sized favorite, but Penn State has pulled the upset before and can do it again tonight.
Auburn
Offense
The biggest strength of this offense is the big man in the backfield, Billy Carter. Carter is having one of the better seasons we have ever seen from a running back, plowing his way to an insane 172 yard per game average. 14 touchdowns are just icing on the cake for this man. Add in his receiving yardage and it won't be surprising when he is in the MVP talk at the end of the year. Following up Billy Carter is Wayne Carter, the man with the hands who totaled 1000 yards last year. While he is much quieter so far, the ability is there to take over a game at any time. The big question mark is Griffin Jelkic and his questionable decision making. 66% completion and a 120 QBR are not the marks of a top tier QB. Its up to take this team up another level.
Defense
This is where Auburn butters their bread. Not many teams can stop the run quite like Auburn, which is a little surprising considering where their talent lies on defense. Take the trio of Ollie Peters, Rian Chambers, and Eric LeClear. Ollie is the hammer of the group, totaling 76 tackles so far this season. Eric LeClear also has this ability but has settled into more of a finesse role this season totaling three pass deflections. Finally, Rian Chambers is acting as a swiss army knife of safety mastery, making an impact everywhere he lurks. The corner duo of Jesus Kitchens and LaRoi Sanders are benefitted greatly by this safety trio as they always have another man to assist in the secondary. Don't forget Micah Myers tacking people in the backfield with ease. Aggressive play by this unit should lead to solid results tonight.
Penn State
Offense
It's time to start talking about Robert Davis as a legitimate threat in this league. This team starts and ends with his talents in the backfield, something that he is not getting enough credit for. 6.7 yards per carry is astounding. Humans don't do that. Add in his 44 receptions and you have one dangerous halfback. PSU just needs to give this man a touchdown at some point as he only has 2 so far despite 143 carries. Some of this is positive, as Aidric Berry is showing some flashes of season one with his 19-touchdown campaign. If Ronald Fields can break open, maybe he can get his second touchdown of the year as well. His ability is also understated, but you can't sleep on him as an opposing defense. If the running game gets going, this team will overcome and put a mark in the win column.
Defense
This is where things look a little bleak for Penn State. Auburn can run the ball on you every play if they really want to. While Penn State's weakness isn't run defense, it still isn't that great against powerful backs. The play action game is the real concern as you always are thinking run against Auburn, but PSU gives up nearly 370 yards a game through the air. It's up to Jack Tyler to step up big time tonight. He is extremely underrated when it comes to the ability and leadership he brings to this team. On pace for nearly 100 tackles, I have no question that Tyler will be a defensive star for years to come. Harper Allen is great at catching the ball for a corner and already has two picks on the season. With these two contributing, maybe PSU can turn it around.
Key Matchup
Auburn HB Billy Carter vs Penn State MLB Jack Tyler
As previously mentioned, these two are going to meet an awful lot during tonight's matchup. If Jack doesn't have ten tackles by the time this one is over, I would be shocked. But Billy is difficult to bring down when he has a head of steam. With a little help from his defensive line, Jack could be the 2nd hit and bring him to the turf. Otherwise, Carter might be too much for this young linebacker to handle.
Prediction
Auburn should be favored by almost a touchdown and rightfully so. This team may have shown some inconsistency throughout the season, but they have the talent and game planning prowess that should dominate someone like Penn State. Still, I can't help but think Penn State stays in this game with ball control of their own. Expect an Auburn win, but not a big one.
Auburn 31, Penn State 24