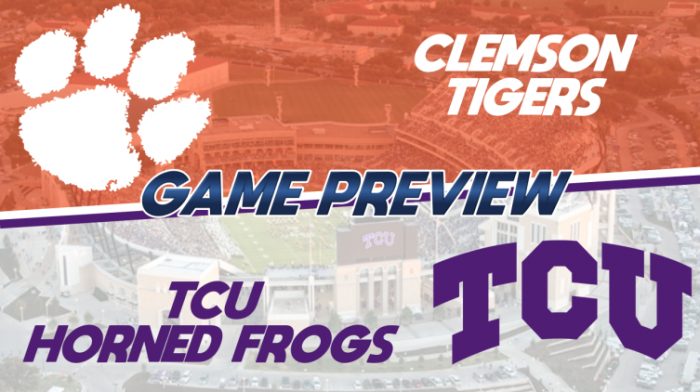 In this SEC matchup, #1 Clemson comes into this week with high expectations. They have been on a tear, winning seven of their last eight. TCU is on the other side of the spectrum. Sitting at 1-7, they just don't have the star power to compete with many of these teams. This is looking to be a lopsided game, but anything is possible in the CFSL.
Clemson
The leader of this team, season three OPOY DJ Moss, has been having a very good season. His passing numbers are up from last season but has not had the same season running the ball. Mike Chadwick has had a very good season. He has 875 yards and eleven touchdowns and has been a huge factor for Clemson. Anthoney Robertson III, Jay Moe, and Keith Blazer have been playing to the best they can and making the most of their opportunities.
Perhaps the most star-studded defensive line contains season one DPOY Tyson Ali and season four DPOY contender Mike Miller. The man in the middle Kobe King is having another very productive season. Corners Stratton Mowry and Andrew Fuller have been lockdown all season long. Safeties Jordyn Hall and Barry Allen are two of the best in the CFSL. This is one of the most talented defenses in the league and has no signs of giving an inch.
TCU
Dalton Andrews has been on a tear this season. His 3022 yards are among the best in the league. This has led to his wide receivers being near the top in all categories. Andre Gyan has 841 yards and six touchdowns. Ray Conley has contributed with a solid six touchdowns. Koda Adok has not been a complement to the passing game, being more effective out of the backfield than on his carries.
Jabril Jackson is a force on the line, living in the backfield all game long. Aaron Davis is, in the eyes of some, the most talented linebacker in the CFSL. Kobe Jordon has played well as of late and looks to continue his level of play. Xavier Colon has had his struggles but continues to give full effort game in and game out. This defense has their work cut out for them against the talented Clemson offense.
Key Matchup
DJ Moss vs Aaron Davis

Moss is one of the most effective runners in the league, while Aaron Davis has proven himself to be one of the key players who can change a game. Davis is the key to the game and he will determine if this is a blowout or a competitive game.
Prediction
Clemson – 41
TCU – 35