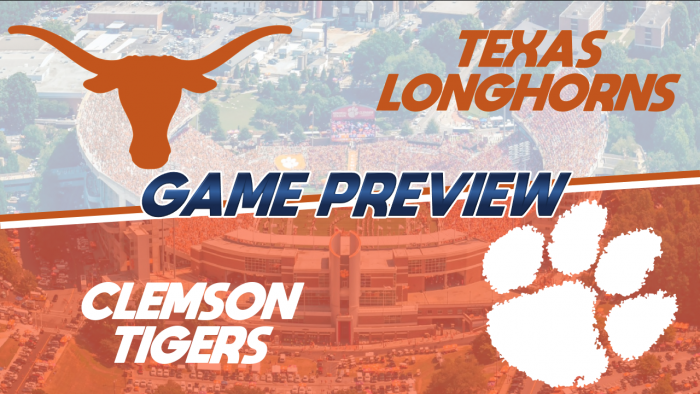 Oh boy, here we go, a CFSL rivalry of massive proportions kicks off week ten. For the second straight season, the regular season matchup between Texas and Clemson is played on a Monday night to start the week. That's just the tip of the iceberg. Once again, this regular season tilt holds the fate of the SEC on the line. And because the SEC is on the line, so too is the opportunity to represent the SEC to the Orange Bowl.
RIVALED HISTORY
Texas and Clemson faced each other twice last season. The regular season tilt where Clemson put it to Texas and the Gator Bowl, where the roles were reversed. Both teams were at the top in terms of their recruiting class a season ago and before that season even kicked off, the talking had started. Each team has taken verbal jabs at the other, laughing at the losses or stat sheets, or boasting their superiority. It's only fitting that they each have a win over the other, and that those two games were never close. But it's a new season, the stakes are high once again, and both teams are out for blood.
TEXAS
The story for the Longhorns last year was halfback Geaux Bamba, and the question as to whether or not Clemson could stop him led the days going into that game. This year, it's a different story. Texas' passing attack, led by quarterback Ray Tatum, is the real threat. Wide receivers Vincent McCoy, Scooby Lewis, and Dedric Scaliso will be in for a fight, which could open up tight end Jackson James. Either way you look at it, this offense is explosive and threatening, which means tonight will get interesting fast.
As far as the defense is concerned, we've all heard the tales of safety Jimbo Smithers and linebacker Justin Boudreaux. I could sing their praises all day, but here's the underlying truth. Somebody outside those two have to step up. Linebacker Howard Cook has been doing that lately, and safety Zachary White has done his part as well. In my opinion, though, it's linebacker Jaxson Morrow or corner Jalen Davis. One of those two will have to play a major role for the Longhorns to win.
CLEMSON
Clemson is once again sitting at the top of the SEC for the second straight season, but not for the same reason. The threat of quarterback DJ Moss taking off last season was a lot greater last season, and far more disastrous. While Moss has done so occasionally this season, it's not quite the same results. Instead, halfback Mike Chadwick has picked up that slack, easing the burden on Moss' shoulders and opening up plays for wide receivers Anthony Robertson III, Keith Blazer, and Jay Moe. Tight end Ricky Cortez contributes in his own fashion, but the forces of Blazer and Moe have been somewhat surprising.
This Clemson defense might be the more impressive part of this team. Defensive end Mike Miller is on a rampage again, and that's likely because he's got defensive tackle Tyson Ali playing beside him. Those two alone give quarterbacks nightmares, but corners Stratton Mowry and Andrew Fuller are capable of making lives difficult. Between the pass rush and the coverage downfield offenses struggle.
WHAT TO WATCH FOR
Let's get one thing straight, this is a new season. I don't anticipate one team blowing out the other like we saw last season. Instead, this is two titans going at each other head on. The Longhorns passing attack against the Clemson secondary, and vice versa. Chadwick going up against the likes of Boudreaux and Smithers. This game, as a rivalry, has the makings of one of the greatest games in CFSL history. So buckle up, buttercup, this is going to be great.
X-FACTOR
No matchups, instead, I'll give the x-factor, the player this entire game hinges on. And honestly, there's two of them, both for Clemson. The first is safety Jordyn Hall, who is having quite the season. He's made been mentioned in player of the week voting, winning at least one if not more this season. He's got to have a big game tonight, as he has done for most of this season. The second, though, is linebacker Kobe King. This cat is so quiet, you sometimes forget he's on the field. He's made a play here and there, but they tend to be few and far between. The Tigers can't afford that tonight. King needs to make his presence known from the start.
PREDICTION
So here we are. The anticipation of who do I predict to claim victory. Texas and Clemson are fighting for the SEC crown tonight, and in Death Valley, only one team can walk out with their National Title hopes still intact. I get it, Clemson is at home tonight, but that didn't stop Vegas from making the Longhorns a three and a half point favorite. The Texas offense that can strike quickly wants to win by seven. But, I get it, the Tigers secondary plays well, and they've got the best pass rush out there. But Tatum is a different animal, and he has too many weapons. I'm taking the bold prediction tonight. Longhorns win and the Tigers don't cover the spread. Give me Texas by seven.
Texas 35, Clemson 28